A conversation with Interface's Sarah Pelham and Cindy Kaufman
The Hospitality industry's largest annual gathering has come and gone. At this year's HD Expo, I had the opportunity to walk the show with Sarah Pelham, our Creative Product Manager for Interface Hospitality. As we checked out all the new goods from the industry, we discussed new and expanding trends as well as past trends that are reemerging. Some of what we found surprised us; some didn't. Mostly, we were delighted at which aesthetic directions the hospitality market is moving. Here are some of our observations from the show.
The Return of Rattan
CK: So, Sarah, obviously we were both struck by how much wicker we saw at the show this year.
SP: Rattan appears to have made a major resurgence, giving a real layered quality that adds to spaces with a warm natural and tactile textural feeling.
CK: Yes, it seemed like it was everywhere! Various types of materials, in all scales and applications. I love that there was every kind of material representative of wicker, from cane, to rattan, to bamboo, to all types of wovens. Even rope, on top of other materials, creating texture on top of texture. But it all felt very "of the moment."
SP: Like those re-imagined funky modern chair shapes with a looser, open weave, made the chairs feel light and sculptural, giving it a new reputation as a stylish essential. And we saw the woven element in textiles, pillows, stools and upholstered pieces…it was abundant everywhere, making unique statements.
The Rise of The Tropics
CK: There was also the undeniable presence of large scale, bold tropical prints everywhere! There was flora and fauna as far as the eye could see! Everything we saw went well beyond biophilic, it was a literal interpretation of everything tropical, in leaf motifs, bird motifs, even animal skins…
SP: Birds, banana leaves, palm fronds, philodendron leaves, ferns and bamboo. Everything danced across the floors and walls in traditional tropical aesthetics as well as modern riffs on style and color.
CK: And all used in endless applications throughout the show. There was also natural plant material in a lot of booths at the show. Do you know the history of the tropical palm print?
SP: The classic palm print has been used in design for decades, but perhaps the most memorable application was at the iconic Beverly Hills Hotel when Hollywood decorator Don Loper wrapped the walls of the Fountain Coffee Bar in his signature Martinique banana leaf motif in 1942. Replicas of the pattern have found their way from the Greenbrier Hotel in West Virginia, to the Colony in Palm Beach, Florida, and on everything from club chairs to a 2016 Dolce & Gabbana runway dress. The tropical design is back and has exploded in all aspects of fashion and interiors.
CK: We even saw it in tile! Why do you think it's coming back into vogue so strongly right now?
SP: I think after a lot of minimalism in recent years, people seem to be more interested in mixing patterns, fabrics, and colors. Tropical decor delivers a warmer, more colorful aesthetic bringing the outside into a space. It's also a style that works well with other things from wooden cabinets to heavy woven textiles; it mixes effortlessly and adds playfulness.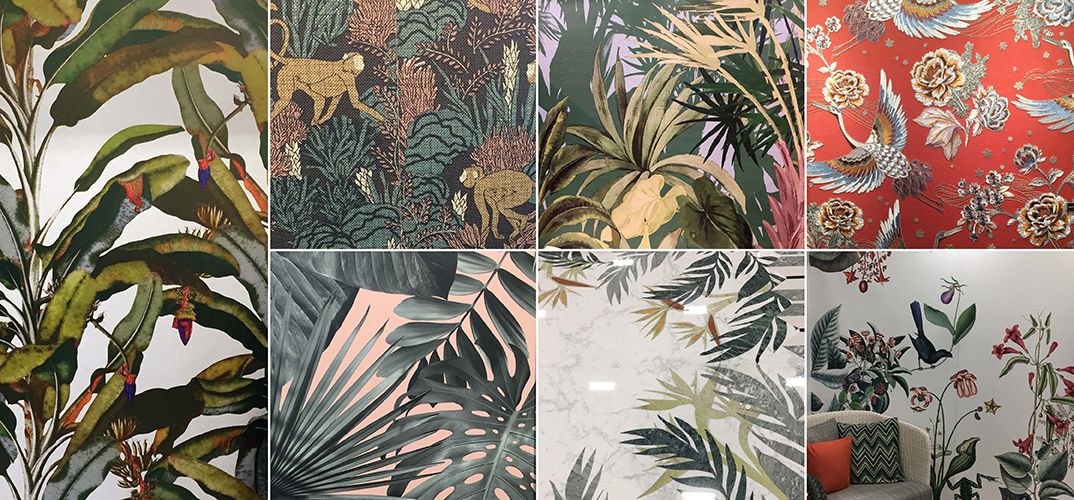 Bring the Outdoors In
CK: Sarah, you just mentioned bringing the outdoors in. It was almost overwhelming, how much outdoor furniture we saw. And not just outdoor furniture, but indoor furniture meant to look like outdoor furniture!
SP: With a focus on biophilic design the outdoor furniture was prevalent, blurring lines of use from a veranda into a sunny hotel lobby. This continued desire to bring the outdoors in was evident as wicker pieces were intermingled with the botanical mood.
CK: Yes, it was. I feel that it creates a sense of ease, relaxation, and repose that is evoked by the feeling of lounging outdoors. Even while indoors!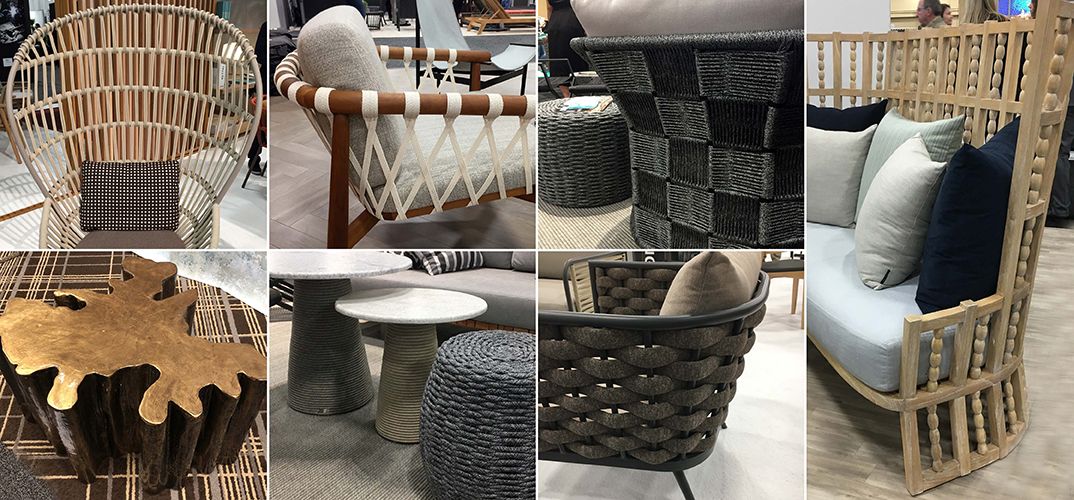 Hospitality: All About Escape
CK: When I think about how all of these materials and aesthetics connect in hospitality, I think about travel and escape! And lush, exotic locations! The furnishings we saw, from the rattans and wovens, to the live-edge wood pieces, to the flora and fauna prints everywhere, made me feel that experience of a getaway! I feel like hospitality is redefining its place, reestablishing what it means to be in the industry. For so long, it seemed it became the industry was all about the drudgery of business travel,  but as millennials and experience-seekers are pushing the industry to change, I think the aesthetic is changing along with it.
SP: Other buzz amongst the show was the traveler's desire to become immersed in the local scene, whether on business or pleasure travel. Hoteliers are finding the need to be knowledgeable about local experiences and to showcase local products and artists to attract clients. By adding local touches to the esthetic of a hotel it is making an impact on the guests' perceptions of the property.
CK: When I think about the glamour of travel of the 40's and 50's, I think about people experiencing first-time air travel and staying in well-appointed hotels and feeling that they were anywhere but home. It seems to me that as people are putting more emphasis on the experience of travel, looking to eco and sustainability travel, wellness travel, and even "voluntourism" to some extent, the industry is responding by creating environments that harken back to those days of luxury hospitality and creating an escape.
SP: Offering destination experience packages is another trend. A great example is The Waldorf Astoria Dubai Palm Jumeirah, where guests are offered an unforgettable experience of a camel ride with a romantic desert dinner or a hot air balloon ride over the desert giving guest a new perspective of the emirate. These destination-specific experiences are included in the room rate and are delivering a WOW factor in some of the world's largest hotel brands, as well as the small boutique properties.
CK: When you fold in all the aesthetic trends we saw – all the materials, prints and textures – it connects all of this in my mind as one grand travel experience. And that's what the hospitality industry represents. It's beautiful to see it all coming together like this, it feels grand and lush.
SP: As summer approaches this interior aesthetic is hotter than ever!