Images from this year's Boutique Design New York (BDNY) show are so fresh in my memory and have left me thinking about the changing aesthetics in Hospitality design. The last several years of soft tones, millennial pink, rich texture and comfort seem to be giving way to a wilder side. It brings back memories of my childhood in the 1970s: geometric patterns, saturated colors and bold black outlines. How important these patterns will become is yet to be determined, but what can't be denied is that the tide feels like it's turning.
The importance of geometry in design
We know that geometry is foundational in architecture and design; there's a natural balance and symmetry achieved through geometry and order. It's an essential element found in nature, that is the basis for many designs, and that dictates how a form takes shape. There's an art to being able to make something complex feel very simple.
BDNY showcased an abundance of large and small-scale geometric patterns in all types of applications. It was clear that this format is pushing its way into the forefront of interior trends for the near future. Perhaps traditionally used as accents, geometric forms this year moved center stage, urging designers not to hold back. Visual interest is the name of the game here, and the options were endless.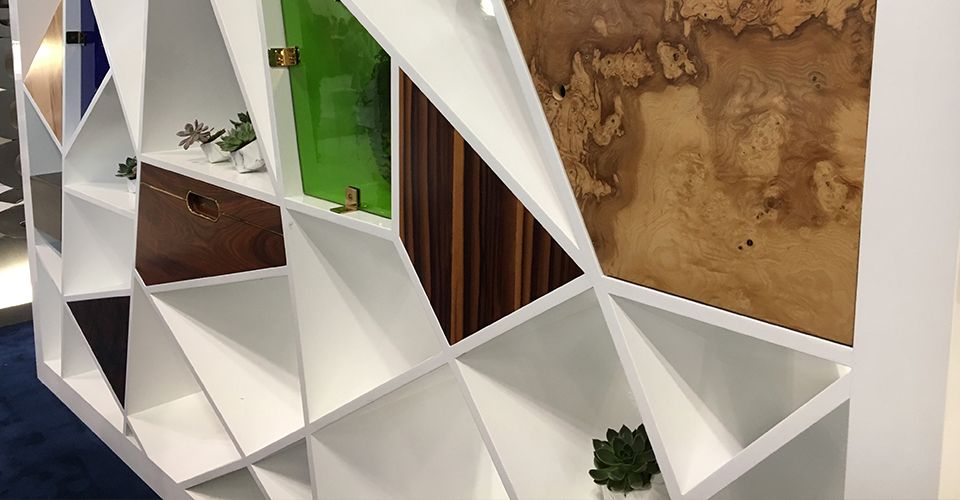 Why are bold lines that zig and zag so important in interior design? What does it signal to us that the soft comforts of pink and lavender are beginning to fade?
Sometimes incoming trends are merely a rebound to preceding trends. After a recent period of what feels soft, tender, and almost fragile, something strong and dominant is called for. It may be a response to broader things happening in the world around us. Or, it might just be time for a trend to make a comeback in a fresh and modern way.
Perhaps all of those reasons are behind the prolific use of strong patterns and bold colorways gracing the aisles of the Javits Center last month. Let's take a look at some of their applications.
Stepping into a feeling
At BDNY, flooring in all types of angular and dizzying patterns abounded. Thick black lines cut with white and neutral colors gave way to smoky blues and terra cotta-tinged rose. Both soft and hard flooring utilized these techniques in a way that felt like a herringbone floor elevated to new heights.

Because of its nature, flooring allows for larger scale in pattern, so the volume can really be turned up in carpet and rugs. A large scale geometric pattern will transform any space – from a lobby to a guest room – and deliver whatever emotion the designer desires to convey. Flooring that exhibits such patterns will establish powerful themes underfoot, leaving the visitor energized as they tread across such bold lines.
Off the wall
Tile was another application where I found this powerful aesthetic. There were new shapes and forms in new layouts, inlaid with brass, chrome, and other metal accents. There were traditional ceramics and stone, and also leathers and enamels. The variety of materials was endless, and the patterns formed by shapes coming together was exciting to see. Although not all designs used obvious symmetry, all felt balanced even where the patterns seemed to be massive fractured compositions. Fractured or not, these groovy patterns deliver a punch that can't be denied!

Wallcoverings were also infused with geometric patterns at all scales. The hints of gold and brass made these coverings feel sophisticated and elegant — you'd want to see them used in larger installations, not just bathrooms or small spaces. Because they add instant visual interest to a normally quiet surface, wallcoverings in general are still making a strong comeback into interiors. Even at a smaller scale, these patterns have a powerful impact on any space they occupy, which has a powerful impact on the visitor within that space.
Taking flight
Massive, over-scaled lighting fixtures were the veritable icing on the cake at BDNY. Large, complex forms hung from the ceiling like spacecrafts landing from other galaxies. Hovering above the trade show floor, these pieces felt substantial, yet light — certainly a stronger statement than the more delicate sputnik fixtures of the mid-century. They were powerful and blunt in a way that felt unexpected, but right. I imagined them soaring overhead in hotel lobbies or lounges, creating a feeling of intimacy beneath them. Perhaps the crowning glory of the show, there were so many new shapes overhead I found myself bumping into other show-goers time and again; I simply wasn't watching where I was going!

It feels as though we are entering an exciting new time in hospitality design. As luxurious as it was over the last few years to feel a softer side of design and color, it will be endlessly entertaining to watch these shapes come to life in the coming years. There is a natural relationship between design and geometry balanced between proportion and scale, playful and wild, modern and polished. Geometry will always be a presence in design, but it's going to have a bit of fun if these trends take hold over the coming years.