Edifice creates a Mediterranean resort for Schlumberger in India
Schlumberger is the world's largest oilfield services company, employing over 100,000 staff and providing exploration and production expertise and technology to the global energy industry. For their new 8,360 square metre offices in Pune, 150km southeast of Mumbai in India, Schlumberger wanted to create an experience unlike any of their previous offices. Architects and interior design firm Edifice were chosen to take on Schlumberger's brief to design an interior with a unique ambience that both visitors and employees could enjoy.
As a key player in the non-renewable energy sector, Schlumberger is committed to helping oil and gas companies increase efficiency and limit their environmental impact by driving technological innovations in exploration, drilling and production. In Newsweek's Green Rankings 2017 Schlumberger was ranked first in the US energy sector and seventh in the world in recognition of their commitment to sustainability.
Edifice were chosen for this project specifically for their track record in sustainable architecture and design and care for the local environment. Their designers look to go beyond green certifications by being genuinely sustainable. As Prashant Sawant, regional director at Edifice Pune, told us: "We believe sustainability should be the single quality that distinguishes our designs."
Having designed and built the net-zero carbon headquarters of India's Ministry of New and Renewable Energy, Edifice are proven experts in sustainable architecture. Which is why our Carbon Neutral Floors™ were such a big factor in their decision to use Interface flooring on this project. "It was the foremost selection criteria," Prashant explained. "More important than look and feel. Interface ranked highest in the selection process specifically because all its products are carbon neutral."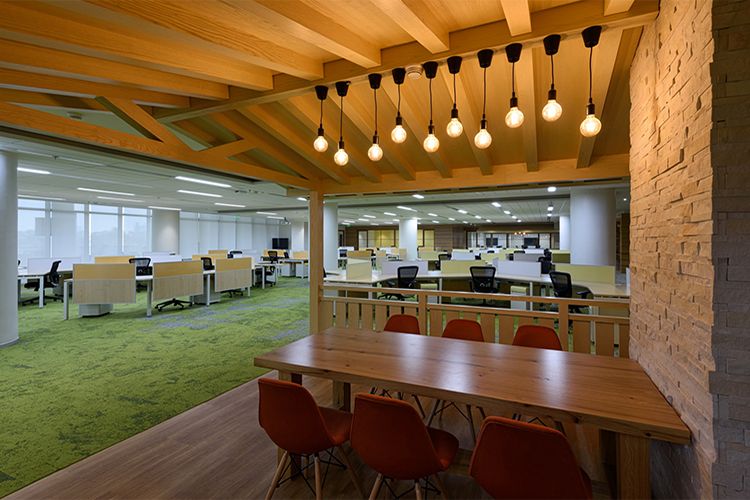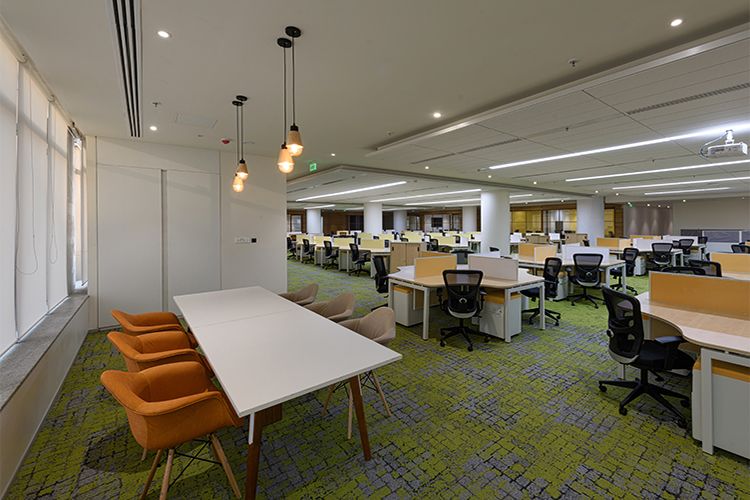 Our Carbon Neutral Floors help progressive design companies like Edifice create low-carbon, socially responsible interiors. Prashant believes this holistic approach to sustainability is integral to their work: "Reducing a building's carbon footprint reduces its running costs, improves employee morale, raises property values and improves LEED scores. Buildings become environmentally responsible, healthier places to live and work."
Carbon Neutral Floors are standard for all our products in every region. We've worked hard to reduce the carbon footprint of our products by over 60% and we're still working to reduce it even further. To reach net-zero carbon on our flooring products, we balance out the remaining carbon emissions with carbon offsets that support renewable energy, fuel switching and reforestation to keep carbon in nature and out of the atmosphere. By installing Interface flooring on this project, Schlumberger retired 34 tonnes of carbon offsets – keeping carbon emissions equivalent to those of a car travelling 133,000 kilometres out of the atmosphere.
Yet for Prashant, our wide range of design styles was still a major factor in the selection process: "Interface keep coming up with fresh designs and relevant themes with real context. Each product has a story as to why that particular design has come into existence. It isn't just a random product with a new pattern. This is inspiring and a huge contribution to the design world."
The Edifice design team, comprising Ravi Sarangan, Gomati Balachandran, Sameeha Joshi and Prashant, decided to split the two floors of Schlumberger's office space into two distinct themes. Interface supplied carpets for the office space on the third floor, which took inspiration from the Greek island of Santorini and the vibrant, colours associated with this iconic Mediterranean island. Echoes of the white tightly-packed buildings, cobblestone alleyways, traditional slate brickwork, outdoor living areas and colourful shrubbery can be seen throughout the space.



Edifice's design team wanted to reconnect Schlumberger's workforce with nature by adding subtle, natural design elements and create calming spaces within a fast-paced work environment. Human Connections was the team's primary choice – designed to echo nature's interaction with man-made stone pathways, from the grey cobblestones of Sett in Stone, to Moss in Stone and Moss, which both feature green moss growing in between stones. They paired this collection with organic green Urban Retreat tiles, creating an illusion that heavy footfall areas have resisted the growth of moss while other areas are completely covered. Each tile design is asymmetrical, so the tiles can be placed in any direction to make a non-uniform, natural-looking design. Cobblestone pathways with partially moss-covered edges seem to gently lead visitors towards the meeting rooms and collaborative areas.
Edifice also designed a highly efficient mechanical, electrical and plumbing system resulting in significant energy savings and operational costs. Use of natural daylight and views of outside greenery have been maximised by the layout, while low VOC paints and ergonomic workstations enhance employee well-being.
The Edifice team worked closely with Onkar Wakodkar – senior account manager at Interface India – on the project. "It was simply a pleasure working with Onkar and the Interface team," Prashant said. "The end product came out exactly the way we had imagined."
"Schlumberger has one of the best company cultures," he added. "The care they show towards their employees is always reflected in their day to day interactions of their teams. Their values of openness, teamwork, innovation and collaboration inspired us to design spaces that align deeply with these values. The office is interspersed with pockets of collaborative space to encourage chance encounters and foster innovation and collaboration."
Prashant believes that ultimately, the interior spaces that his team have created are for the end users, Schlumberger employees: "It's almost like an intimate relationship with the end user – a relationship which is deeply satisfying and nurturing, because we always design with love and care. I believe people will form an incredibly personal relationship with what we have created and that's what we strive for in our design endeavours."