With well-known household products such as Dettol, Veet, Strepsils, Durex, Enfagrow, Enfamil, Sustagen, Vanish, Harpic, and Mortein retailing in more than 180 countries, Reckitt Benckiser is one of the world's largest consumer goods producers. The company originally had two separate offices in Indonesia which they decided to bring together in one space on the 58th floor of the 2000-square meter Treasury Tower in Jakarta. The design brief for the interior space was to use the company and its diverse range of household products as inspiration.
Reckitt Benckiser has set ambitious targets to shrink its carbon footprint per dose of product by one third from 2012 to 2020. Since 2012, the manufacturer has reduced its total greenhouse gas emissions by 35 per cent, and its energy consumption has been cut by 22 per cent. This was achieved by redesigning products to minimise the impact on the environment and by making the switch to renewable energy sources. The company has also signed up to the RE100 initiative with a bold commitment to using 100% renewable power by 2030.
Interior design team Citra Duta Artistry, or CDA, were chosen for the project based on their experience of creating modern corporate spaces in Jakarta for international organisations such as Mead Johnson, DBS and WPP group. CDA was a perfect fit for this project, not only for their insistence on using materials with high recycled content and low carbon footprints, but also for their own sustainability endeavours. They educate their employees on the benefits of reusing paper, carrying their own shopping bags and reusable coffee cups, and they even organise company outings to collect trash from the beaches of Bali. In our experience, designers who understand how the products and materials they choose affect the environment tend to have a leading edge with global institutions such as Reckitt Benckiser – and we think CDA is living proof of that.
All Interface products are covered by our Carbon Neutral Floors™ commitment – they are carbon neutral across their life cycle. On completion of a project, we issue a certificate detailing the floor's carbon footprint credentials. By choosing Interface products, CDA didn't just give their client a beautiful new floor design – they also helped them to measure and reduce their contribution to global warming.
We sat down with Bingah Suseno, project director at CDA and CDA project designer Louisa Sutanto, who told us that their team prefers to work with Interface because of "the wide range of designs available, the high level of support and the sustainability story behind every product. We recommend Interface because we have worked together for years. We want the best quality for our clients and we know we can trust the quality of Interface products."
Bingah and Louisa were also eager to use our range of luxury vinyl tiles (LVT) for the first time. Our LVT range allows designers to create seamless floor designs that integrate with our modular carpet tiles without the use of transition strips. Durable, hard flooring with a wood or stone effect can also be installed without the waste or long installation time associated with traditional flooring materials.
CDA conducted design workshops with Reckitt Benckiser's employees to ensure that the final design aligned with their working culture and values. Using the company's own products as inspiration various meeting rooms and collaborative spaces were brought to life. For example, a collaboration corner was given a laundry theme, complete with a washing line, clothes hung out to dry and tables made to look like a washing machine.
Yet another striking feature is the spacious breakout area that the company uses to hold events for the employees. Drawing inspiration from a warung kopi or coffee house, it features a beautiful wood-log table, a vintage stall, and a bold graffitied wall.
The design features many natural elements, from the flooring to a vertical garden, potted plants, and fantastic use of natural light. "We choose the green moss and cobblestone patterns of the Human Connections collection for a fresh, healthy floor design that makes the office come alive. We also revamped a lot of furniture from their old office and gave it a new look," explained Bingah. "Open plan workspaces are placed by the windows and enclosed office spaces, against the inner wall, to make sure that everybody gets natural sunlight."
The natural cobblestones and lush greenery of Human Connections and Urban Retreat are combined with the polished cement look of Level Set luxury vinyl tiles, adding to the overall outdoors theme of the communal spaces.
In meeting rooms, Stone Course carpet tiles in grey with pink highlights, also from Human Connections, echo Reckitt Benckiser's brand colours with an eye-catching paving design.
The biggest challenge for CDA was creating different themes for each meeting space. They overcame this by working closely with a graphic artist to design unique wall art for the rooms. For example, the meeting room dedicated to the hair removal product, Veet, features a fashion model cat-walking down the meeting desk.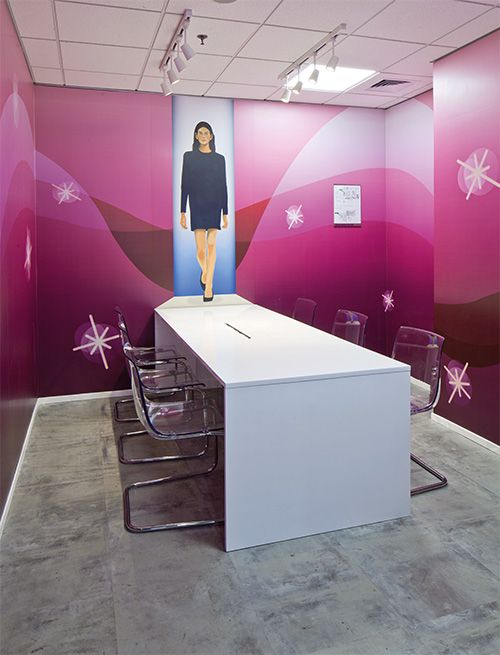 Bingah is proud of the workspace that her team has created for Reckitt Benckiser: "It's an office where people work, so while it has to look attractive, we need to make sure that it is functional as well. For us, it is very important to understand the client's needs and we tweak our design to suit that. It is always exciting to meet new clients with different requirements. We absolutely enjoy the process of getting to know their values and what's important to them, then applying these to the office design. In short, we love doing what we do!"