Situated in the heart of the Forest of Dean, St. White's Primary School wanted to draw on the surrounding landscape to create a nature-infused space that would reconnect students with the outdoors. The new building combines outdoor play areas and forest views with nature-inspired fixtures and fittings.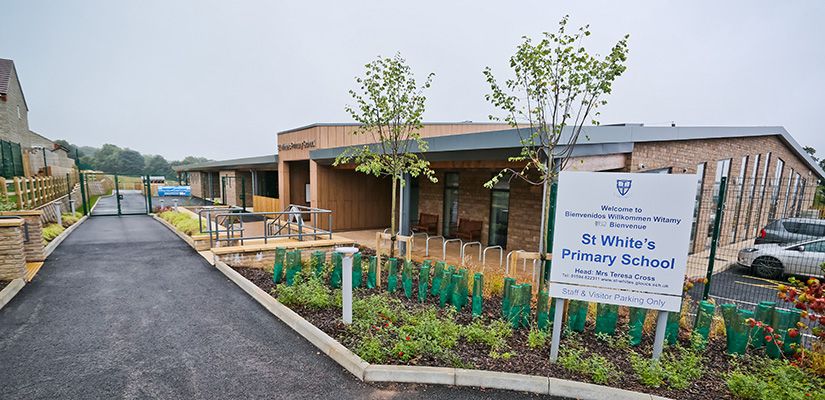 There are proven benefits to incorporating nature-inspired – or biophilic – design techniques in interior spaces. For example, Interface's Human Spaces report (2015) found that including natural elements can significantly boost levels of well-being and productivity. In the educational environment specifically, research shows that increased contact with nature can dramatically boost young people's attention span, meaning they are more focused in the classroom and better able to concentrate.1 For example, simply optimizing exposure to daylight alone can increase the speed of learning by 20-26%.
Taking a nature-inspired design approach
With this in mind, professionals at Roberts Limbrick worked with Interface to create an engaging and stimulating flooring design in the building's reception area, corridors, classrooms and meeting spaces.
Jonathan White, Senior Associate at Roberts Limbrick, commented, "We've worked with Interface previously as they have such a wide range of nature-inspired products. We know through our experience the specific benefits incorporating natural design elements can bring, and therefore, Interface was the ideal choice for the flooring.
"By including floor to ceiling windows and skylights throughout the school, we've also been able to flood the space with natural light and maximize the opportunities for children to see directly out onto nature. Inside the building, natural wood and stone materials are used throughout, complemented by colors and textures that mimic the natural world."
Interface's Human Nature™ Collection, which is inspired by the tactile textures found in the most elemental of floor coverings – forest floors, grassy fields and pebbled garden paths – was the perfect biophilic flooring for the project.

While the overall look and feel of the building was of paramount importance (as it's an education environment) a practical solution that met the building's acoustic requirements was also necessary.
"Due to the nature of the building, it was vital to minimize sound transfer across the open plan areas and classrooms, making it easier for pupils to concentrate. As Interface modular flooring combines acoustic performance with design, it was the ideal choice to help limit noise traveling through the space," added Jonathan.
Theresa Cross, Headteacher at St. White's Primary School, concluded, "Our new school building looks amazing and we can't believe how lucky we are. It wouldn't have been possible without the gifted land, which has allowed us to develop an environment that will be a joy to work and learn in. We've balanced indoor and outdoor work spaces and play areas, and the design has completely transformed the school."
---
References
1 Nearby Nature: A Buffer of Life Stress among Rural Children. (2003) [report] Available at: http://journals.sagepub.com/doi/abs/10.1177/0013916503035003001#articleShareContainer