Where do Interface's in-house designers seek inspiration? Safe to say it's not found staring at computer screens all day.
So, what do you get when you combine 20 designers, 16 paint colors and one giant "paint-by-number" canvas? An inspirational artwork of our founder Ray Anderson to hang in The Studio, brightening the space and reminding employees of the greater purpose of their work.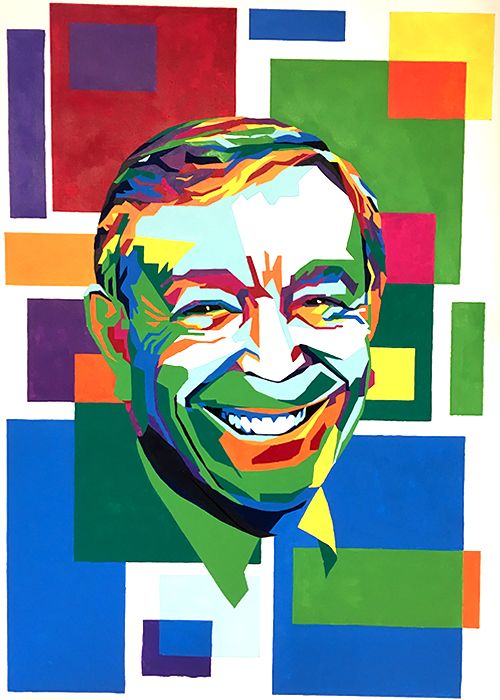 Color me bold, but I'd love to look at this artwork every day.
The Studio is home to members of our in-house design team who are responsible for custom design projects. And while The Studio is full of natural light, bright colored carpet yarns and personality, the team spends much of their day working on their screens.
A visual break, a place to reset your eyes, is welcome in this environment.
Senior designer Andy Porter had wanted to add some colorful artwork in The Studio for a while and always thought there should be a portrait of Ray.
To get the look, Interface designer Jill Cook fractalized the cover photo of Ray Anderson's Confessions of a Radical Industrialist and simplified it into shapes. The square and rectangular shapes in the background are graphic elements representing Ray's influence on the modular carpet industry.

The canvas was set up like a paint by number project so that everyone could be involved in the team building exercise, no matter their skill level with a brush. The entire design team funneled their creative juices into the project. (And to be honest, it wasn't all designers. The project was set up so that even a novice could participate!)
Porter says: "I can't think of anything more inspiring than a portrait of the man who gave our company purpose. He is the reason we promote sustainability and he changed the way we do business. We are striving to live his legacy every day, and now he's sure to brighten our corner!"
So, what do you think? Where do you find inspiration?