HR services provider HeadFirst Group has unveiled its new headquarters in Hoofddorp, the Netherlands. The company asked architecture firm Fokkema & Partners to renovate the former ANWB building – a well-known location in the north of the Netherlands. To support HeadFirst's sustainability ambitions, 1,950m2 of Interface's Embodied Beauty carbon negative carpet tiles (as measured from cradle to gate) were specified throughout the space, connecting the building with the values of the company.
A Natural Choice
Architect Estelle Batist and her team at Fokkema & Partners were tasked with transforming the new office building at Taurusavenue 18, Hoofddorp into a truly sustainable hub that also supported its employees' wellbeing. After a successful introduction meeting, the question of suitable flooring arose at the initial design stage.
"We've been working with Interface for quite some time now and we know that the products look good, live up to performance expectations and that the manufacturer is leading the way with its sustainability work," said Batist. "The key consideration for us is always the quality of the product, but Interface also offers quality advice. There is room for questions, everything is well thought out, and they are always looking to develop innovative products. This new collection from Interface, Embodied Beauty™, fits nicely with that ambition."
Joke de Graaf, Head of HR at HeadFirst Group, commented: "It was of course important that the floor fitted well with the overall design, but the fact that the floor is very sustainable and involves a huge reduction in CO2 made the choice easy."
Sustainable Ambitions
One of the key concerns for Fokkema & Partners when it came to sustainability was reducing the amount of CO2 emissions that would be produced from the renovation itself. To support this, the team specified the Tokyo Texture style of the Embodied Beauty™ collection in color Ash to reduce the carbon footprint of the space by more than 17,000kg and deliver a timeless, organic aesthetic.
Though not immediately noticeable, Fokkema & Partners also decided to reuse various materials and components to further boost the sustainability credentials of the project, including the existing railings and ceiling panels, which were kept intact with only minor modifications.
According to De Graaf, HeadFirst is aiming to take a pioneering role in the field of sustainability: "We work with 16,000 professionals every day and have over 400 clients in Europe. We want to play our part in creating a fairer and more sustainable labor market. However, we also take our contribution to a sustainable world seriously. That's what the next generation is asking for, and we're happy to listen and respond."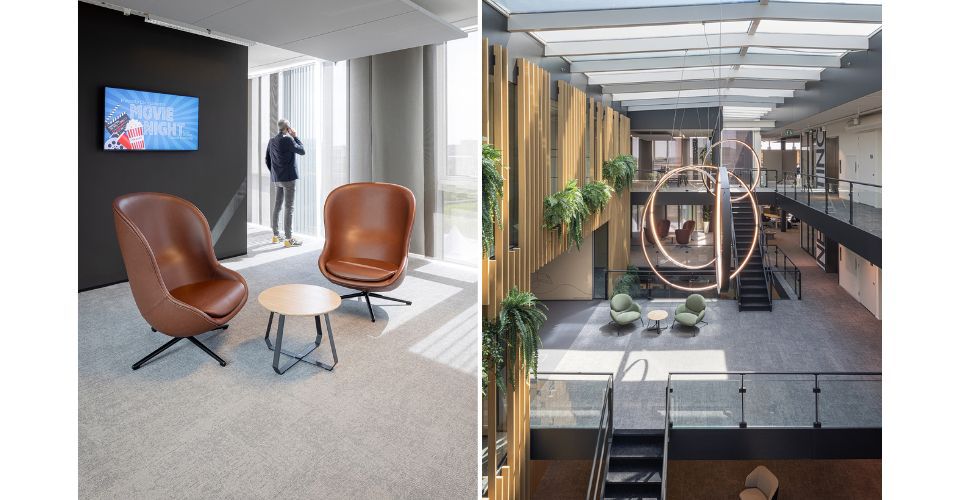 Connecting People
HeadFirst Group prides itself on connecting people. To ensure the space reflects the company's values, Fokkema & Partners prioritized collaboration and creativity for the team's new office.
"In every design, the user of the space is central to the process," Batist explained. "The connection between users is realized through the voids and stairs, which provide a physical and spatial connection. Meanwhile, the vertical connection is reinforced with high slatted wall over three floors. The horizontal connector is the floor; it forms the basis for the open working environment and connects the different zones from façade to façade. By introducing subtle differences in the tone of the floor, we have made the zones recognizable, along with their connection to an agile working area or a meeting area."
Batist also noted that the impact of the space on end-user wellbeing was also a key consideration: "At Fokkema & Partners, a healthy working environment is paramount; we always look for sustainable, healthy solutions, while continuing to innovate. In this design, together with HeadFirst, we made important choices in terms of health and wellbeing: good views, daylight, acoustics, a gym and yoga room, a sports bar, shower and changing rooms, lots of greenery, variation in work and meeting spaces, and inspiring graphics. The Embodied Beauty collection was the perfect choice for this space as its sound absorption qualities reduce sound impact between the different floors and open plan design."
De Graaf added, "My compliments to Interface and Fokkema & Partners. I notice that people from other HeadFirst locations are now eager to come and work here. We've already heard some requests for such a nice new interior for our other locations."