Editor's Note: This piece originally appeared on WIRED's website as part of a content partnership.
Often technology-driven brands come to mind when people think of companies pledging to reduce or eliminate their carbon emissions. However, to really have an impact on the gigatons of annual emissions that contribute to global warming, businesses across a variety of industries—not just technology—need to go beyond pursuing carbon neutral and aim to develop carbon negative solutions.
But what does "carbon negative" mean? To put it simply—the term "carbon negative" describes solutions, technologies, or products that result in less carbon dioxide in the Earth's atmosphere. The concept can conjure up images of giant filters, vacuuming up air, and removing the carbon emissions. Thankfully, it's not that complicated.
Now, while the dream of sucking carbon out of the air in large quantities—reversing rather than just containing the problem—is not yet economically viable for many companies, an exciting approach to carbon negativity exists, and it involves, counterintuitively, embracing​ c​arbon. Perhaps even more surprisingly, the industry responsible for driving this promising step forward is one most wouldn't consider "high-tech"—carpet tile manufacturing.
Over the past 25 years, commercial flooring manufacturer Interface succeeded in establishing itself as a sustainability leader following its founder Ray Anderson's "spear in the chest moment," which awakened him to the urgent need to set a new course for the company. In doing so, he shook the foundations of the petroleum-intensive carpet manufacturing industry by declaring Interface's commitment to becoming one of the world's first environmentally sustainable and, ultimately, restorative enterprises.
Fast-forward to 2020, and Interface—having already delivered carbon neutrality across the full life cycle of its carpet tile and resilient flooring products—is going even further. This fall, the company is shaking up more than its own industry with the launch of a carpet tile that is carbon negative when measured cradle to gate (from raw materials through manufacturing).
Inspired by Nature, Manufactured to Respect It
To develop its carbon negative products, Interface began by examining how nature manages carbon to provide balance to the planet. In this carbon cycle, forests, oceans, grasses, and crops all have processes, such as photosynthesis, that absorb carbon from the atmosphere and store it in structures, preventing its release. Interface's innovation team soon realized that it could replicate nature's carbon-storing abilities by learning to work with carbon and by using it as a building block to engineer better products.
Because carpet tiles are made of two primary elements—the protective underside known as the "backing" and the top layer of yarn—Interface had to balance how the materials in both components work together to impact the product's total carbon footprint.
For its new line of CQuest™backings, Interface added new bio-based materials, including a bio-composite that stores carbon in materials. This is carbon that would otherwise have been released into the atmosphere. These bio-based materials are key to making the backings carbon negative​. They leverage plants' carbon-storing attributes, which are essential to the carbon cycle. In nature, plants generally release only about half of the carbon dioxide that they absorb. However, when plants die, all the carbon they've stored up eventually releases back into the atmosphere. Interface aims to interrupt this process, mixing plant-based oils and resins with recycled limestone into a bio-composite, creating a new kind of backing material that doubles as carbon storage.
"By switching to bio-based materials away from petroleum-based ones, we are reducing the amount of carbon in the natural carbon cycle and conserving whatever carbon would have been released to make the alternative oil-derived material," says John Bradford, Chief Science and Technology Officer at Interface.
Interface also added more recycled content to its existing backings instead of new man-made materials, a critical step as extraction and processing usually account for about 70 percent of a material's carbon footprint. The innovation team then measured how these new materials influence the CQuest™ backings' carbon footprints. Measured on a stand-alone basis, their reduced carbon footprints plus their carbon storage mean they are net carbon negative—they reduce more carbon than their manufacturing process emits.
This technology currently appears in three backings, all available in North, Central and South America, and is anticipated to roll out globally in 2021.​ ​CQuest™GB is the next evolution of Interface's longstanding GlasBac® backing—now net carbon negative. ​CQuest™Bio is a non-vinyl bio-composite version, and the CQuest™BioX backing, which comprises an even higher concentration of the carbon negative materials, is the non-vinyl backing used in the company's carbon negative carpet tiles.
The carbon negative materials in the CQuestBioX backing, in combination with specialty yarns and proprietary tufting processes, result in the carbon negative carpet tile. The finished product brings together durability, industry-leading design, and a negative carbon footprint that ultimately benefits the planet. In addition to the three new CQuest backings, Interface recently launched its first three carbon negative carpet tile styles as part of its Embodied Beauty™ collection. With these carbon negative carpet tile options, designers and specifiers can help lower the carbon footprints of the spaces they create without sacrificing function, performance, or style. And it's important to note that the products' carbon-storing benefits are not limited to the life of the carpet.
Interface aims for its carpet tiles to see many lifetimes and has made the incorporation of recycled content an integral part of its production processes. As a result, customers are encouraged to return products at the end of their useful life through the company's ReEntry™ program or other local product take back programs. "Our goal is to bring the product back and recycle it into new products, further locking the carbon into our circular system," says Bradford. "As we worked to develop carbon negative products, we intentionally designed our production process to incorporate this recycled material." And even if the carpet tile is not recycled, its backing will continue to store carbon out of the atmosphere for generations.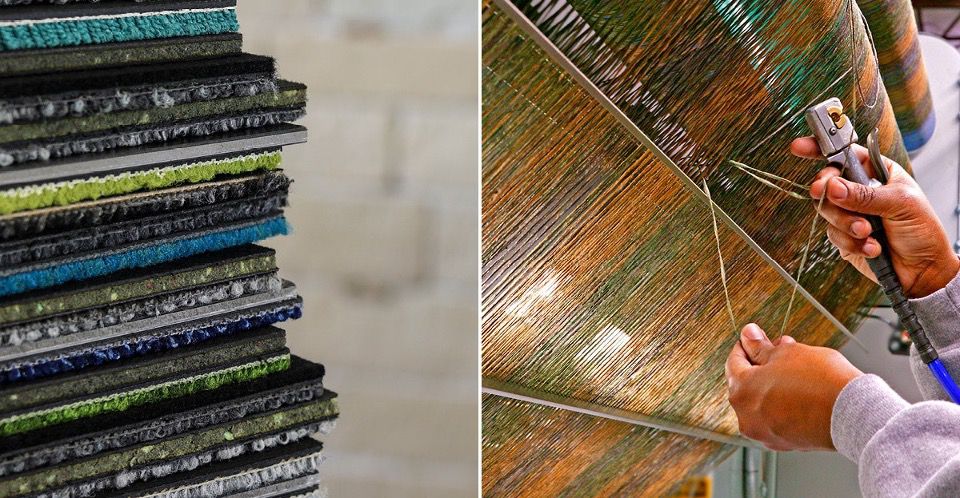 Inspiring Other Companies to Follow Interface's Lead
Interface has found one answer for how to push toward a carbon negative future in the world of flooring products. But more broadly, it shows how companies might get a little more creative and take direct responsibility to shrink their own carbon footprints—and beyond. And Interface is not alone. Carbon negative products are beginning to appear in a variety of industries, including performance footwear, furniture, and jewelry.
"The idea here is to open one's mind to accepting a new design consideration of carbon footprint," says Bradford. Companies can scramble to catch up to consumer demands for lower footprints, or they can choose to act now and figure out how to chip away at their impact on a warming world. "When either or both happen, we will see a move to products with lower footprints."