Part of the fun of modular, systems-based design is using creativity to reinvent the innovative. For the talented designers of Interface Design Studio (IDS), it means taking a classic product and reimagining it in a completely new way.
In 2012, Interface launched the first transition tile in the Urban Retreat™ Collection designed by David Oakey Designs. It's been specified thousands of times because of its biophilic inspiration, progressive color story and smart, timeless appeal. And in 2021, we took the versatility of this product and used it to adapt the third floor of our global headquarters, Base Camp as we call it, for post-pandemic occupation.
We'll show you how we did it, but first a little background info…
The Return to Work
Interface has worked hard using a data-driven approach to reimagine our corporate headquarters as a high-design, post-pandemic office of the future. Part of this work included reconfiguring the office to maximize opportunities for collaboration while maintaining safe distancing. Be sure to read the full story on how we're reimagining Base Camp.
Since we're in the business of flooring, we also updated the floor design throughout the space to utilize the natural size and shape of our product. Director of Product and Learning Experience Mindy O'Gara explained, "Modular flooring has the benefit of built-in mathematics, which provides you with an easy measuring tool. With hard and soft surface tiles in squares and planks, floor designs become not only aesthetically pleasing, but also uniquely functional. In fact, you can use modular flooring to create built-in cues that prompt safe distancing behaviors."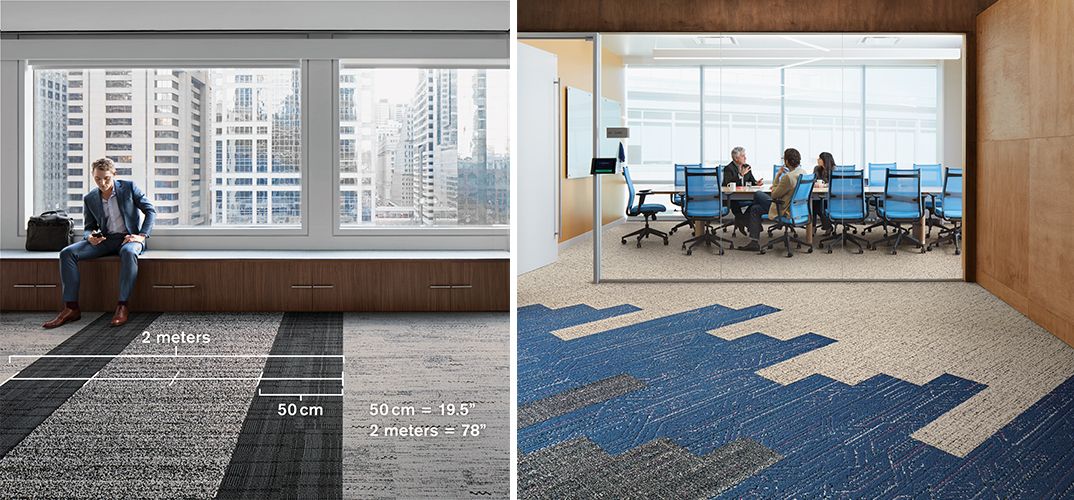 Third Floor Transformation
IDS was tasked with creating a luxe, elevated, and premium floor design on the third floor while drawing on Interface's system of flooring to balance high-end products with budget-friendly options. The floor design needed to support the goal of creating a safe but compelling space for returning employees.
The design team selected Urban Retreat for its flexibility to create a large scale pattern and chose soothing colors for a premium feel.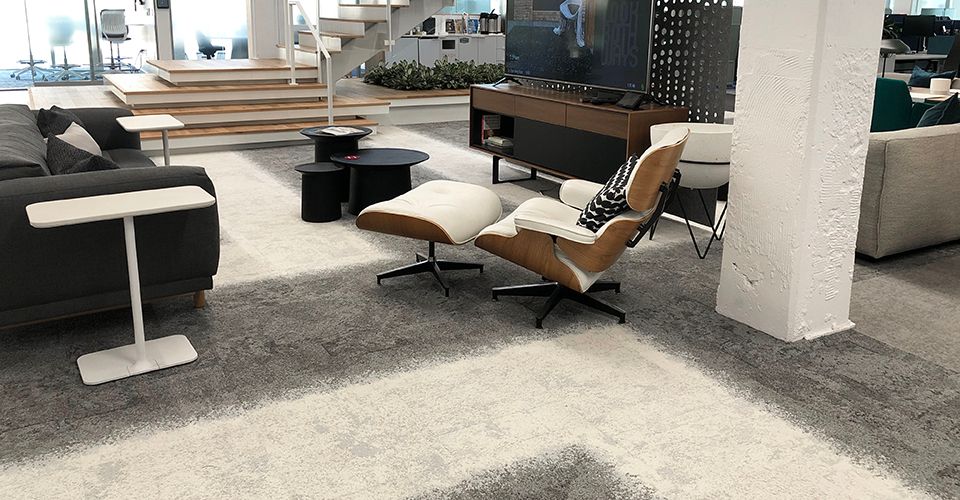 Lead Concept Designer Jacob Martinson said, "I love that while there is a clear pattern happening on the floor from an aerial view, when furniture is in place you don't necessarily read it as a large pattern but rather unique twists and turns that peek out from under each furniture vignette. The pattern also subtly references the overlapping rectangles that we see at the base of the stair landing but radiates out from a central point."
He added, "While we love the organic aesthetic of Urban Retreat, we purposefully decided not to have this area resemble earth or grass so that we could emphasize the versatility of the collection." And since this floor gets natural light flooding down from the fourth-floor staircase, the white lines almost appear to glow. "It has a very cool effect!" said Martinson.
Putting the Puzzle Together
This installation proved to be a fun challenge for our installers. The floor design in this area surprisingly only contained 28 cut tiles (aside from perimeter tiles); everything else was set on a 50 cm non-directional grid. Installation plans from IDS demonstrated that by turning the tiles strategically, you could create something completely out of the box. Once the installers could visualize this, installation went quickly and smoothly.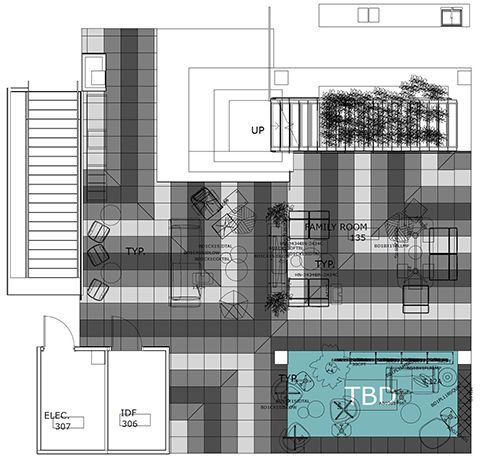 Martinson explained, "Our plans and schematic drawings were paramount in helping our flooring team understand modular transition products and this particularly unique layout. With creative positioning and installation, we can create something special. After we met to explain the design intent, the floor went down like a giant puzzle!"

Often Imitated but Never Duplicated
The interiors industry has seen the introduction of several transition-style products for the floor since we launched Urban Retreat. However, it's important to remember that working with the original modular flooring expert and transition-tile inventors has certain perks. Systems thinking is behind every design and innovation at Interface. We're experts, and our specialists are readily available to you on your next project – big or small. We're here to support in all stages of the design process – from palette creation to finding ways to incorporate different price points and styles, and eventually to the application and design of the tiles themselves.
Martinson concludes, "Although others may try to imitate this collection, it is embedded in the identity of Interface's aesthetic. We have perfected its use."