What exactly goes into a building or office construction project?
How do you approach it responsibly?
What do you want the end result to look like?
As it turns out, the questions are endless. Because when you embark on the process of renovating an office space or even building new, everything is important. From design and space considerations down to building materials and fabric selections, there are so many variables to juggle — and that's just pre-occupancy.
For example, when Interface started on our own headquarters project in 2016, we had to consider: location of the building, the design of the building, the sustainability of the building, the well-being of the employees who use the building … In short, it was a lot.
Walking the walk with a new global headquarters
It was clear from the beginning that there were a lot of expectations to live up to. We had to accept the reality that we as a company lived out our values in lots of ways, but the built space we inhabited ­– in Atlanta, specifically – was not always reflective of that. Our new HQ was an opportunity to fix it.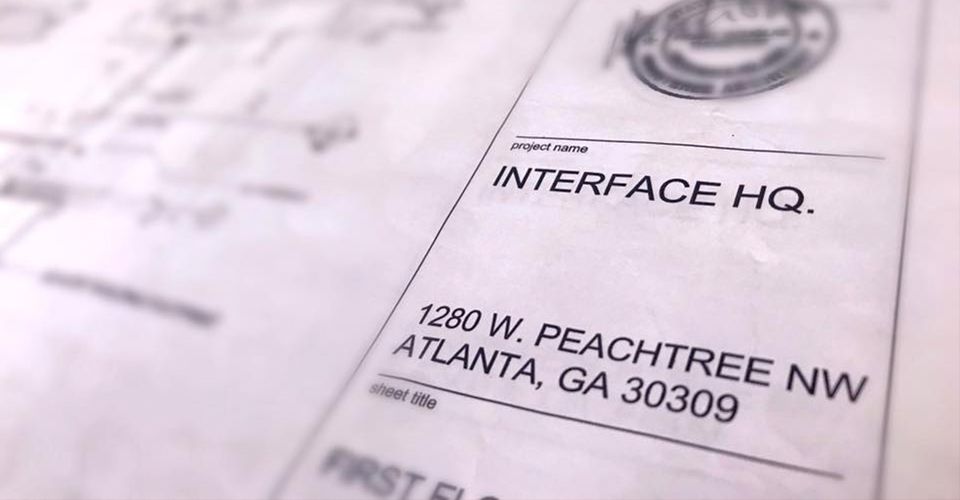 Interface HQ Basic Facts:
Four-story office building, around 45,000 ft2 — completely repurposed for Interface
Midtown, Atlanta, GA — in the middle of the city
Across the street from MARTA train and bus stops — easy access to public transit
The project was also an opportunity to understand the process from our customers' perspective and be transparent about the challenges we faced and the lessons we learned.
What did we want to accomplish?
Well, quite a lot. At Interface, we're an ambitious bunch, and our approach to the new HQ was no different. While we plan on talking more specifically about each of the new facets of building and working in the headquarters, here's a snapshot of each function this space has to fulfill.
Solidifying our culture
In Atlanta alone, Interface employees were distributed between six different locations and office types. By bringing (most of) them together under one roof, we wanted to solve the feeling of disconnect between employees and create a more cohesive company culture. We also wanted to allow employees more flexibility in how and where they worked within the office environment via work choice. What does that look like in reality, and what kind of culture will we create? That remains to be seen.
Showing off the floor
Beyond its purpose as a living, breathing office space, the new headquarters also had to be a showcase of our design philosophy on every level. That means the entire building is a showroom for our customers and partners to see how we approach design in practice — with the floor in a starring role.
Incorporating biophilic design 
As big proponents of the benefits of biophilic design, we wanted to incorporate biophilia into the story of the building. Working with biophilic design experts, we drew inspiration from nature in obvious and non-obvious ways to create a truly unique space that focuses on employee wellness.
Reinforcing our sustainability mission
Sustainability is the backbone of our company. So with the new building, we wanted to make sure that Mission Zero and Climate Take Back™ were front and center. We looked to reduce our use of carbon, water, and waste during the building process, and have put systems in place to keep waste to a minimum once we're moved in.
Embracing LEED and WELL
This new headquarters will aim for both WELL and LEED certification. Specifically, we are targeting WELLv1 Gold Certification and LEEDv4 Platinum Certification — which will cover all aspects of green building and employee wellness. One of the biggest questions we had to tackle: How do these two different standards work together? And how can having a seasoned partner (as we did with JLL) help navigate what's needed for each certification?
Ultimately, we want our new global headquarters to reflect who Interface is as a company: where we've been, where we are now, and where we want to go next. It's been a long process, and we want to share what we've learned. So let's start the conversation: What do you want to know about our design and building process? Are you working on a similar project? What insights do you have from previous experience? Comment below or follow our HQ progress on Interface's social media profiles.
To dig a little deeper into the process and challenges of our new headquarters project, take a listen to this NeoConversations interview with Interface's Chip DeGrace and Joe Connell from Perkins + Will, which partnered with us on the design and execution of the project.