Our company is driven by much more than the products we deliver …
Our mission to run our business in a way that is restorative to the planet.

Our constant sense of exploration and innovation to design a better way.

And most importantly, while developing the plans for Base Camp, our commitment to creating

+Positive Spaces

for our customers and employees.
As we continue our article series on Interface's new global headquarters, we highlight below what makes us more than a flooring company. Interface is its people – authentic individuals who bring their whole, undivided selves to work and offer their talents to the world, which is why we focused on providing a space that would allow them to maximize their own potential.
Past and Present
A need to bring a sense of community back to the Interface workforce drove the restoration process for our new headquarters. Not only were we renovating our physical workspace, but we also sought to renovate the way we worked. Previously, our designers, sales team and leadership were separated by distance across Metro-Atlanta. With a company culture that encourages exploration, we wanted to transform the existing structure—which consisted of dark, isolated rooms with low ceilings—to provide a base camp, a safe space, for employees to come together and flourish on their journey as members of the Interface team.
"The design intent for Base Camp was to put the Interface mission and values front and center," says Paula McEvoy, co-director of sustainable design at Perkins+Will, a key partner in the design of Base Camp. "Employees and visitors are reminded of the purpose behind their work: develop products that have a positive impact on people's lives, their spaces and the planet."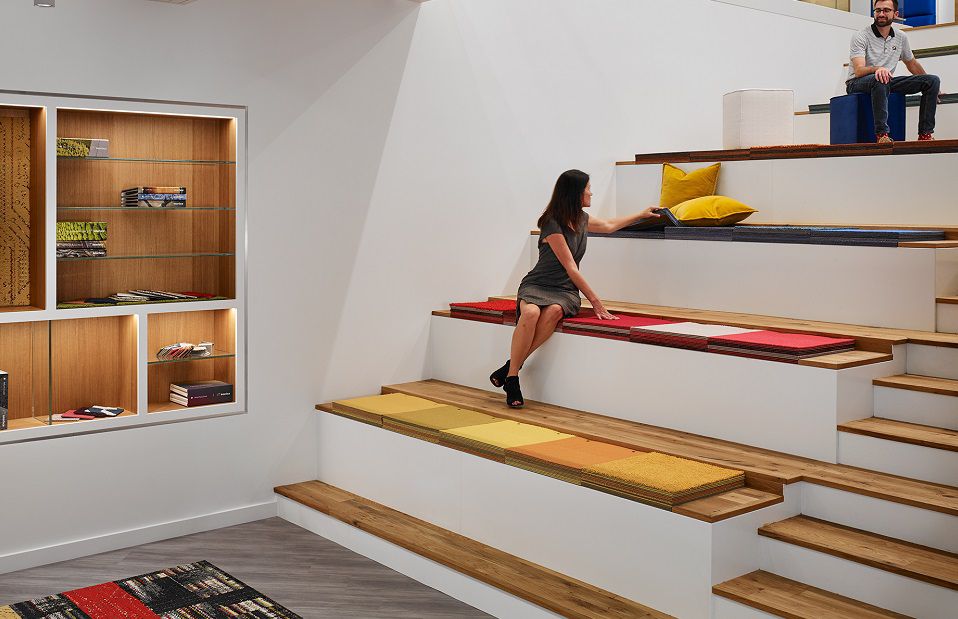 Bringing People Together
As a company, we believe being genuine with one another fosters a foundation for trust and deep relationships, investing in "we" over "me" and creating a culture of inclusion. It was time for Interface to put this belief in action, which inspired the selection of Base Camp's location in the heart of Midtown, Atlanta. Located in proximity to the majority of our employees, the move from multiple office spaces to one was easy.
Adjacent to Atlanta's "cultural corridor" of museums, colleges, local businesses and restaurants, the neighborhood nurtures our greatest thinkers and experts' creativity. Base Camp also greatly benefits from being directly across from the MARTA train and bus stop, providing our employees and visitors alike with easy access to public transit.
People First
Approximately one-third of our lives are spent at work; therefore, it was essential to provide our employees an environment that promotes health and wellness. With each individual employee in mind, we incorporated numerous wellness rooms into our headquarters' design. On the 2nd floor, Base Camp offers restoration rooms for meditation, mother's rooms to ease post-maternity leave transition, showers, healthy snack options and a coffee bar.
The new headquarters space is on target to achieve WELL Gold Certification, which measures the built environment's impact on human health and well-being, through air, water, nourishment, light, fitness, comfort and mind.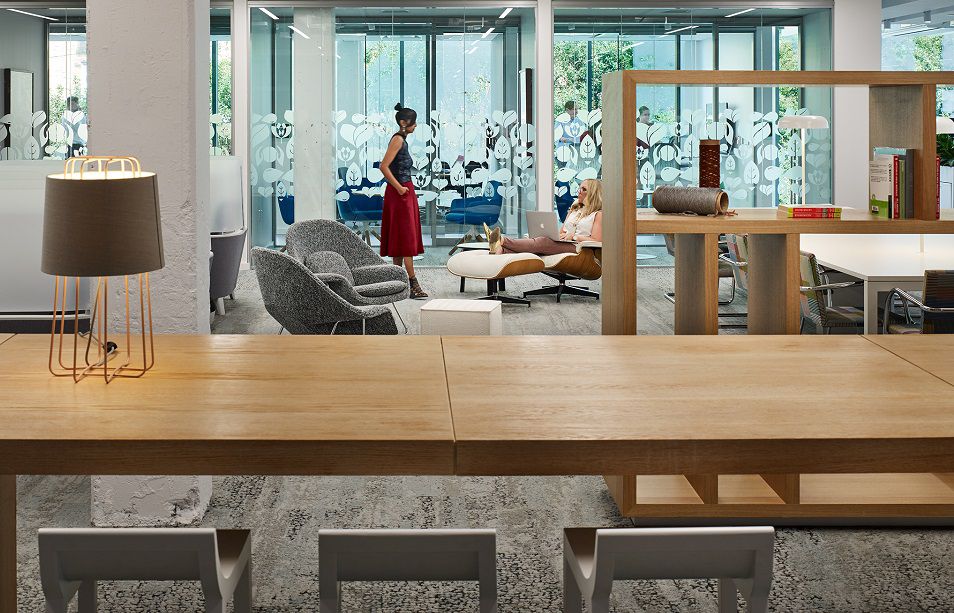 Providing Options Through Work Choice
At first glance, the original building on West Peachtree would not have inspired the best designer or employee. We repurposed the structure to create an open and inviting space, aiding a transition from our previous working habits of closed-door offices and online conference bridges to a variety of collaborative workstations and spaces.
A cure for over-familiarity, work choice also reduces distractions, enhances collaboration and improves space utilization. People have different needs to be productive, and a rigid desk policy can stunt maximum potential. To combat this, Base Camp offers a range of work options:
Traditional workstations with double monitors

Communal seating

Semi-private cubbies

High-top, standing tables

Casual lounge seating

Family rooms

Library spaces

Sound booth for audio recordings

Quiet rooms

Small, medium and large conference rooms
"We held focus groups and created micro-surveys to assess employee needs and working styles over time," explains Joe Connell, design principal for the commercial design studio at Perkins+Will and partner on the headquarters project. "We came to understand the behavior that created the workplace culture at Interface and separated space requirements from activity requirements. The new space abandons the antiquated dependence on private offices in favor of agile workspaces and intentionally crafted common spaces for spontaneous interaction."

Employee Development
In the spirit of continual learning and bettering Interface, the 4th floor of Base Camp offers a dual-level training and multi-purpose room that seats up to 150 people. It can function as one large room or divide into two rooms for small group sessions. With access to the rooftop garden overlooking the city and a large catering kitchen, the training room is an ideal space for both celebration and professional development.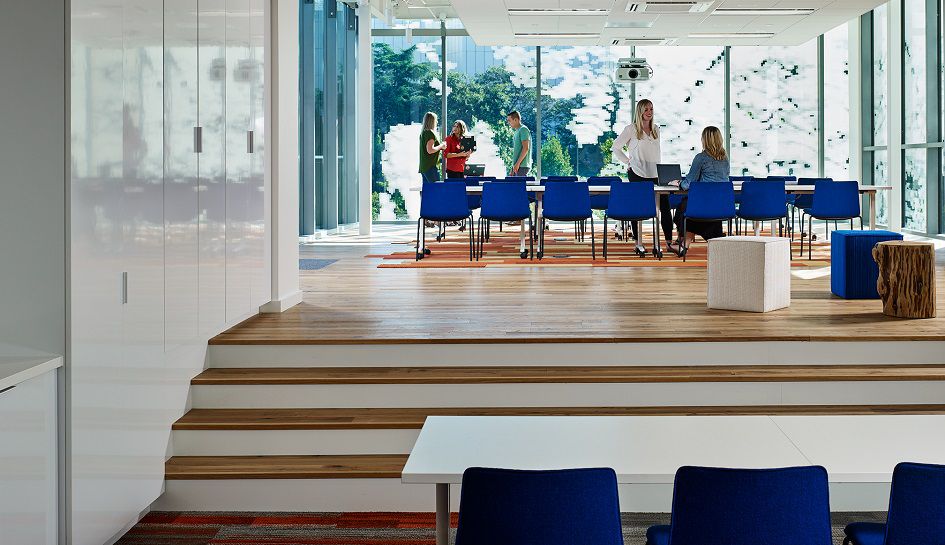 Connecting with Nature
Much of our inspiration in flooring design comes from nature and the benefits of connecting with the world around us. We applied this mindset when designing Base Camp and explored ways to incorporate the natural world beyond the flooring we chose. Although most employees spend an average of eight hours indoors, we wanted more for Interface. The rooftop lounge features seating in the sun or shade, as well as an expansive garden of Georgia native plants, such as succulents, blueberries and rosemary, allowing employees to recharge outside while at work.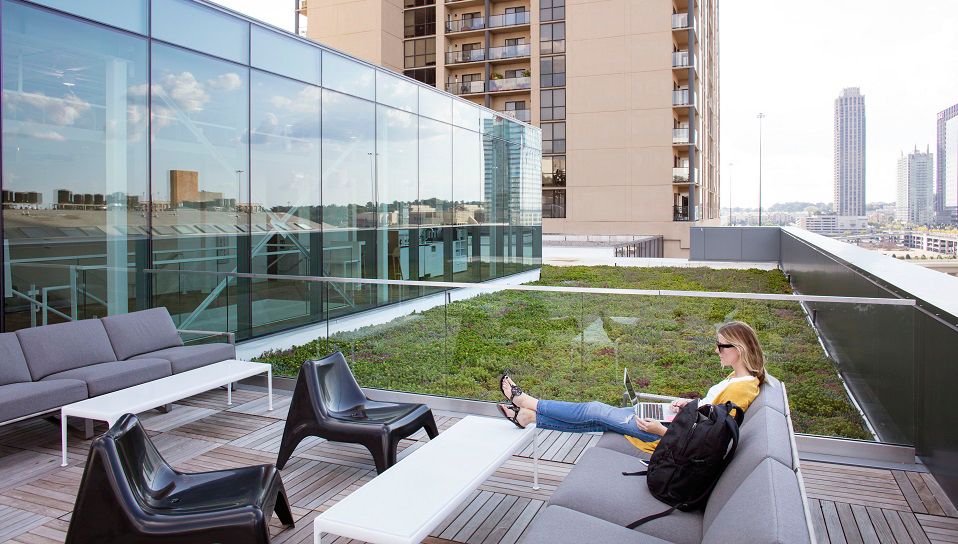 Biophilic Design
Being surrounded by an artificial environment has negative effects on a company's workforce, including a lack of creativity, productivity, energy and an overall lower mood. Before starting the designing process of Base Camp, we sought counsel from Bill Browning, distinguished environmental strategist and founder of Terrapin Bright Green. According to Browning, there are 14 ways to connect to nature in a space and 14 patterns of Biophilic Design that support different psychological or physiological outcomes. We implemented his theories through the use of natural light, plant life and design that mimics nature, which in turn helps boost concentration, lower stress levels and improve cognitive performance.
Ray Anderson, founder of Interface, left us with a legacy of innovation to uphold. Through that legacy, we've dedicated ourselves to better products, happier people and a healthier planet. At Base Camp, "happier people" is at the core of every design decision we made, proving that a space designed for the people using it can further workplace goals while enhancing employees' overall wellness.