Thoughtful Design Keeps Climate in Mind
Editor's Note: This piece originally appeared on Architectural Digest's website as part of a content partnership.
Given our world's ever-growing climate crisis, carbon neutrality is a goal more and more companies are striving to achieve. It's a process that, in effect, lowers the carbon dioxide businesses release—because when too much carbon is emitted into the atmosphere, it can overwhelm Mother Nature's ability to cool the Earth, which contributes to global warming and ultimately leads to climate change.
Becoming carbon neutral is a process that marries design, science, engineering, and manufacturing. It's a goal Interface has been pursuing since 1994.
High Design Meets Low Footprint
Investing in Interface flooring—whether it's carpet tile, nora® rubber or luxury vinyl tile—means purchasing a product that is carbon neutral across its entire product life cycle. "We're inspired by learning from nature, and in nature, waste is not really a concept—everything gets reused, transformed, or repurposed," says Lisa King, Vice President of Marketing and Innovation for Interface. And there's beauty in turning used into new. "By incorporating recycled content in our product constructions, we are able to extend the useful life of materials that might otherwise have ended up in landfills or oceans," King says.
As a result of their sustainable business practices, Interface has achieved a 74 percent reduction in the global average cradle-to-gate (from raw materials through manufacturing) carbon footprint of their carpets since 1996, and reduced the intensity of market-based greenhouse gas emissions at their carpet manufacturing plants by 96 percent during that same period. And, at the end of the life cycle, each year Interface diverts more than 10 million pounds of used carpet from landfills to create a carpet tile backing made with 90 percent recycled and bio-based content. For Interface, these measures are only part of a larger plan: to eliminate their carbon footprint entirely, becoming a carbon negative company by 2040.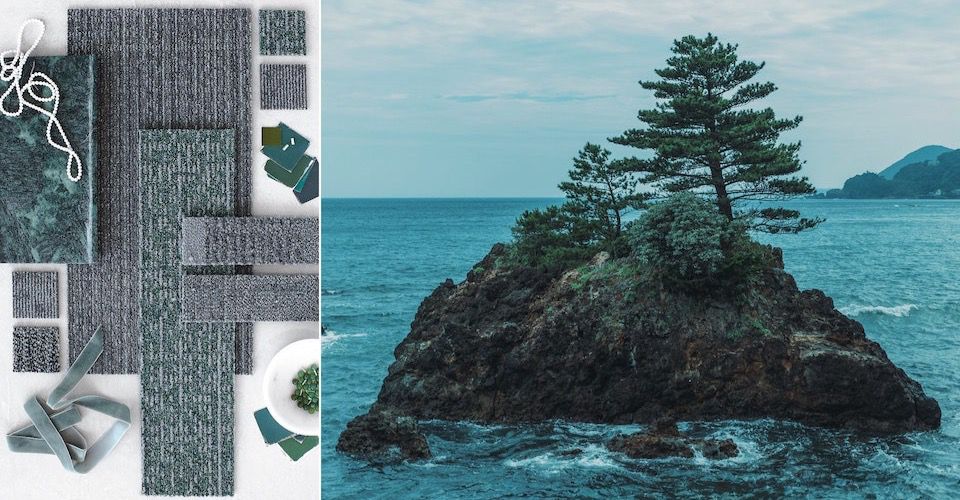 Building Blocks for Better Products
Though their goal is to keep carbon out of the atmosphere, Interface also knows carbon can be an effective resource to improve their products. It's a conviction that led to the creation of their new Embodied Beauty™ carpet tile collection, which includes the company's first cradle-to-gate carbon negative products in three unique styles.
By combining specialty yarns and proprietary tufting processes with backings that store carbon, Interface has created commercial carpet tiles that store more carbon than was emitted during their manufacturing. The result is a carpet tile that is net carbon negative.
Design Inspiration
While sustainability is at the core of every creation, high design and performance are equally as important. Pile height, stitch rate, variations in texture and color, and yarn construction are all used to create distinctive designs. "A carpet tile is a crafted item—there is both art and science evident in the construction," King says.
To find inspiration for each collection, teams of designers and trend forecasters around the globe take their cues from travel, art, science, music, history, design and color studies, and emerging design trends, as well as from technology and workplace trends that change how people live, work, and play together. "Design is communication, it is empathy, it is iterative, and it is always evolving," King says. 
Practical Application
Carpet tile, in all its modular glory, creates flexibility and functionality that can fit any style. "It's such a versatile product," King says. "It can be combined to create one-of-a-kind area rugs or to cover an entire floorspace. Our flooring products are designed to be used together—and in larger commercial settings, they enhance wayfinding, placemaking, and zone establishment, facilitating transitions and traffic flow through buildings," King says. For the home, the Interface FLOR brand delivers limitless creative expression, letting homeowners design their own creative canvas—whether bold and graphic, monochrome, subtle Scandinavian, classic, or whimsical. And every choice is a smart one—the tiles are free of harmful chemicals and low on VOCs, making them a shrewd and stylish option anywhere you put them.