A community cornerstone since 1867, Kern Medical is an acute care teaching center with 222 beds in Bakersfield, Calif. As the only advanced trauma care between Fresno and Los Angeles, the hospital is in constant motion with more than 9,735 admissions and 44,400 emergency department visits each year. With such high levels of activity, the hospital's executive and facilities management teams are committed to sourcing building materials that can stand up to the demands of a busy healthcare facility. Therefore, Kern Medical has selected nora® by Interface rubber flooring products for each of its renovation projects since discovering it in 2016.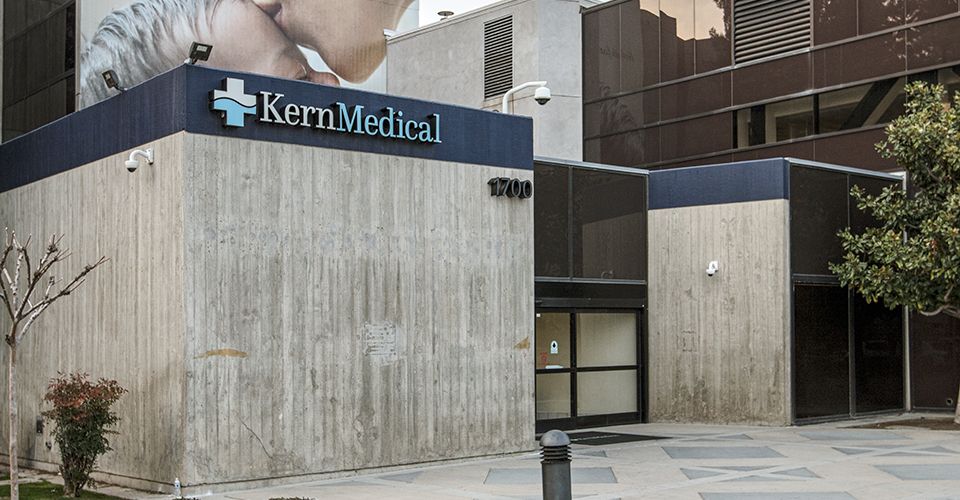 An Instant Connection
Kern Medical's executive and facilities teams were first introduced to nora in 2016 when interior designer Ghina Itani, CHID, ASID, EDAC, of Itani Design Concepts, accompanied them on a site visit to Hoag Hospital in Newport Beach, Calif., to see the flooring solutions. "We were preparing to renovate the hospital's operating rooms, and I knew nora would be a good fit," explained Itani. "That introduction was instrumental as it allowed Kern's project managers not only to see the flooring, but also to speak with other facilities teams and hear their opinions about the product and its performance first-hand."
"The flooring was absolutely beautiful," remembered Nanette Crawford, special projects manager for Kern Medical. "When I walked in, I saw how clean and shiny it was. It was immaculate. Then I learned that the flooring wasn't new and wasn't waxed, yet it had such a high gloss and looked very clean in high-traffic areas. That really piqued my interest."
Exceptional, Easy Cleanliness
Crawford chose to install nora rubber flooring in Kern Medical's operating rooms in 2016 and, subsequently, has chosen nora for additional renovation projects, including the new pediatrics wing, ICU, labor and delivery, and two large trauma bays. "The trauma bays are where the action really happens in the emergency department," said Crawford. "Having nora in those areas is critical as we found that blood, iodine, and other fluids do not stain the floor. A mop and some cleaning solution pick everything up. When necessary, we can use scrub pads to eliminate any marks or stains, leaving an immaculate, clean floor."
"Easy maintenance is essential in a healthcare setting, especially a busy hospital like Kern," said Itani. "You can't shut down a trauma bay or hold up the hallways for waxing and cumbersome cleaning processes!"
Durability in Tough Environments
nora rubber flooring's noted durability and longevity also contribute to the product's success at Kern Medical. "There are rolling carts, machinery, and a lot of foot traffic in the hospital. A vinyl floor gets scratched easily and must be patched or replaced," explained Itani. "I've heard so many complaints about scratched or dented flooring surfaces in the past, so nora's durability is a big selling point for me."
"We used to have a lot of VCT, which caused so many maintenance problems," said Crawford. "I was spending $20,000-$30,000 a year replacing flooring in the trauma bays and eventually, the floor looked like a patchwork quilt. We anticipate with nora, we don't have those problems or that expense."
Designed for Function
In a healthcare facility, caregiver, staff, and patient safety are a top priority. "We think about preventing slips or falls, as well as infection, in addition to fire safety, indoor air quality, and even acoustics. nora meets all of these safety points," said Itani. "I love that all of the flooring products are the same height, allowing for seamless transitions from space to space without increasing falling risks or hindering rolling movement."
The flooring design influences patient perceptions as well. "When patients walk into a hospital like Kern Medical, we don't want to look like the county hospital," said Crawford. "nora flooring does wonders for our aesthetics and overall patient satisfaction."

A Lifetime of Savings
As a county hospital, Kern Medical often must wait for funding before starting a new renovation project. Despite tight budgets, the hospital's leadership feels that nora is worth the investment. "VCT may be less expensive up front; however, it will cost you in the long run," said Itani. "With nora, life cycle costs are greatly reduced."
Kern's environmental services (EVS) team agrees with this decision wholeheartedly. "The team loves our nora flooring," said Crawford. "Every time we start a new project, the first thing EVS asks is, 'You're installing nora, right?'"
Recognizing the many benefits of installing premium rubber flooring in a healthcare environment, Kern Medical plans to include nora in future renovation projects.