When Teacher Town Commons desired a dynamic, invigorating space for its new offices, they partnered with ANF Architects/Interior Design to convert two floors of a 1930's narrow, concrete, column-filled freight warehouse into a modern workspace. A think tank and incubator for 15 to 25 small education-related nonprofit organizations, Teacher Town USA sought an energizing design to initiate person-to-person work relationships, new ideas and capacity-building collaborations to strengthen and grow the organizations.
Challenges abounded at the onset of the remodel. The long and narrow floorplate filled with closely spaced columns created a confining grid; existing interior floor slabs were uneven and un-level; sounds bounced off every surface; and a series of 46' by 158' floors made the space feel close and restricting. ANF was poised to solve for each.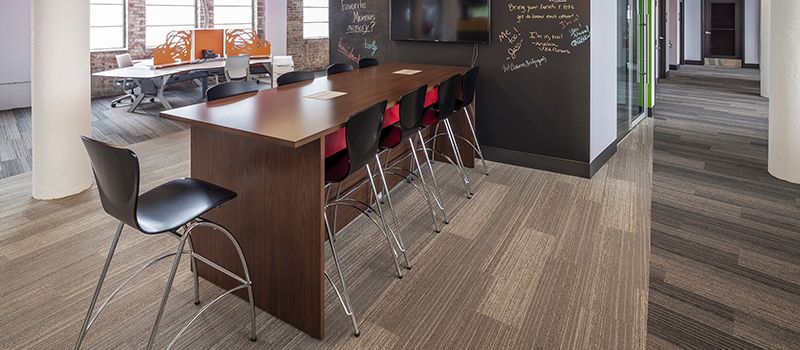 To break out the grid, the ANF team created a wide diagonal path starting at the front corner entrance stair and running across each floor to the opposite rear stair and elevator. This path reoriented the space while walls angled akimbo, furniture groupings and lighting reinforced a free-flowing layout, with conference and private collaboration spaces varying by floor.
A top priority was pulling together occupants while enabling semiprivate and private workspaces. Materials and design accomplished this. Existing hard concrete, brick and glass surfaces were mitigated by carpet, ceiling panels and high-acoustic gypsum walls.
For acoustics and softness underfoot, the broad diagonal path was covered with Interface's Walk The Plank™ carpet tiles in the Ash colorway, installed in one-third offset running brick bond, laid parallel with the centerline of the path. For the abutting open office and office areas, a slightly darker grey carpet tile was oriented sidewall to sidewall to visually widen the floor. Selected for this application was Walk The Plank in Hickory, installed in one-third offset running brick bond.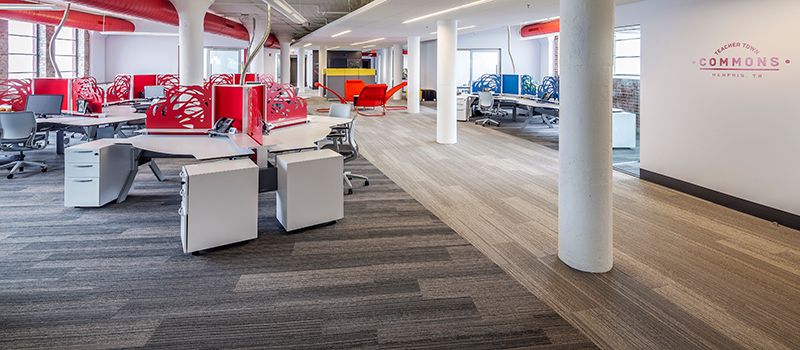 Bursts of accent colors on wall edges and furnishings identify individual groups and enliven and differentiate assorted areas, assisting with placemaking and wayfinding. Red, the primary accent color, is used in the flooring and runs up various walls. The right choice for this accent was Interface's Urban Retreat™ (UR501™) in Red.
The modular carpet is complemented by hard floor surfaces specified in stained concrete that appear in the refresh bars, coffee room, elevator lobby, restrooms and service rooms. This decision helped the budget, and the industrial look worked with the exposed columns, piping, conduit, ducts, and old side windows.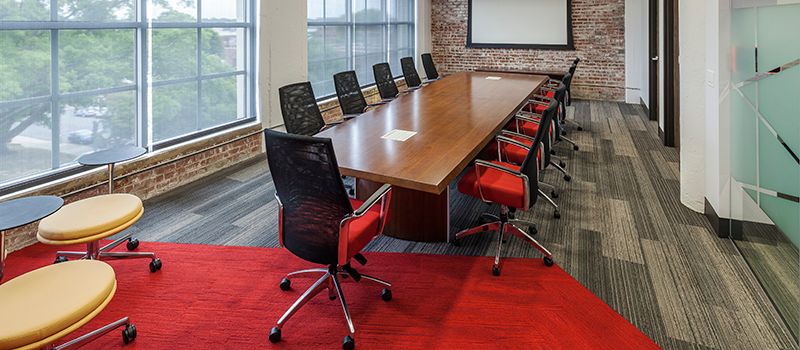 Sustainable materials and methods were considered vital for the comfort, health, recruitment and retention of the 20- and 30-something occupants and their growing organizations. The 100% recycled content of Walk The Plank and Urban Retreat carpet tiles helped the design team achieve this goal. Also, the tiles were installed glue-free with Interface TacTiles®.
To benefit both Teacher Town USA and the building owner, ANF selected all finish materials including carpeting to be easily cleanable and durable. Interface modular carpet is tough, easily cleanable and protects against soil, stains and bacteria. In addition, the pattern is forgiving and it is carpet tile, so selective tiles are quickly replaceable.
As the most consistently seen surface, even in high-ceiling rooms, flooring sets the immediate tone that workspaces invoke in their occupants and guests. Its durability and maintainability affect the longer term tone of those spaces. This naturally affects the attitudes of people – in this case, at their workplace. ANF often turns to tiled flooring products because of their versatility. There are so many ways to install and mix them that the possibilities seem all but unlimited.