When Interface was selected as the flooring solution for the renovation of three buildings on Cisco's Research Triangle Park (RTP) campus in Raleigh, NC, it was not the first time the two companies had worked together. In fact, Cisco has been partnering with Interface on flooring projects globally since 2004.
Cisco was preparing to renovate four buildings simultaneously and had varying objectives for each project, such as updated brand guidelines, new amenity zones geared to enhance the employee experience, and refreshed look and feel. Interface provided creative flooring solutions that enlivened these workspaces while being mindful of Cisco's project budgets. Further, the companies' shared commitment to sustainability and waste reduction led to a variety of unique results that proved good for the investment and the environment.
A Relationship Founded in Flexible Design
Cisco has used Interface's Design Studio program for many projects on their two million square foot RTP campus. Cisco leveraged the program's design team on the renovation project in building 6. The end result exceeded everyone's expectations. "We developed a design strategy with the Interface team by selecting patterned carpets that brought energy to the space, helped with wayfinding and complimented our brand palette" said Pam Irvin, Workplace Experience Owner at Cisco. "We didn't have the funds to make changes to the architecture, so the finishes and materials were key in helping us meet our design objectives. The carpet had a custom look and feel, and one would have thought it took weeks to install. But in actuality, it was all in stock and installed quickly and easily."
"There isn't anything else out there that competes with Interface. From the colorways, to the flexibility of how the various flooring solutions work together, it's really a differentiator," added Diane Solinger, Senior Project Manager for JLL at Cisco.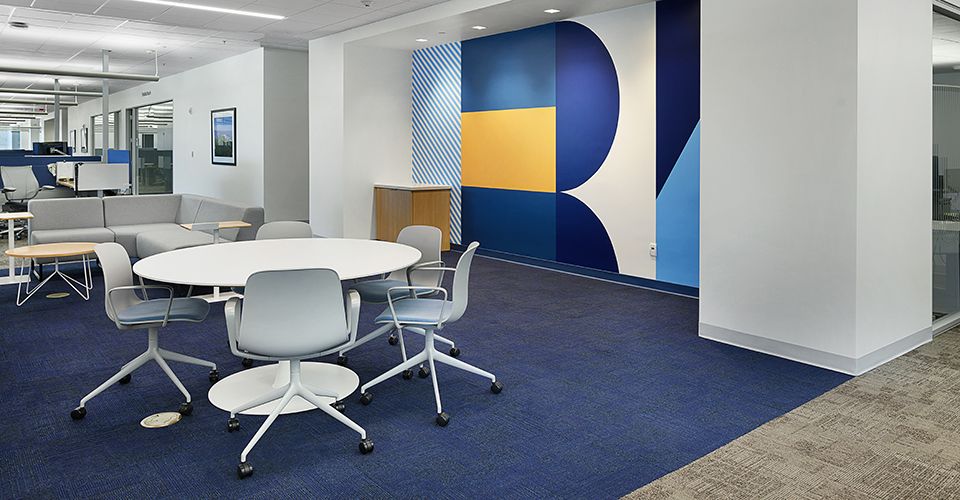 Flooring Solutions That Outlast Brand Standards
On the other side of the campus, a renovation was planned for buildings 10 and 11. When developing the scope for the project, Cisco found that the existing Interface carpet – installed more than a decade ago – was still in good condition.  "Keeping the existing carpet installed underneath hundreds of workstations enabled us to use those funds on other components of the project that impacted the employee experience," explained Irvin. "We decided to remove the carpet from the corridors, meeting rooms and key customer areas and install new, on-brand materials from Interface's Silver Linings collection."
Though Cisco often recycles or donates gently used carpet tiles, they opted to transport much of the carpet removed from buildings 10 and 11 to building 4 to replace 20-year-old broadloom carpet. "This was such a win for both projects and again, enabled us to invest in smart ways and spend our funds on things that will have a positive impact on our employees' experiences."
Interface's modular carpet tile and LVT solutions are designed to foster this kind of durability. Whether installing new flooring or replacing a single tile, modular systems make it easier and more effective both on design and maintenance teams, as well as the bottom line.

Bonded by a Shared Commitment to Sustainability
Reusing carpet tiles for another renovation project is a great example of Cisco and Interface's shared commitment to sustainability and waste reduction. "Reusing carpet tiles keeps them from being sent for recycling, which is always a priority as a part of our zero waste program," said Irvin. "We also successfully donated much of the unused carpet, which was still in great condition, to local nonprofits who have very limited resources."
This commitment is reflected in Cisco's global sustainability efforts. The company's circular economy approach is addressing their environmental impacts through the design of their products, their product solutions and their operations. This initiative is leading to increased efficiencies and reduced emissions globally. On a local level, Cisco has diverted 80 percent of its waste from landfills through recycling, composting and donations. Further, Cisco recycled, and or donated, approximately 5,000 square yards of carpet as part of the buildings 10 and 11 project alone.
Sustainability is a core pillar for Interface's operations and the focus of its Climate Take Back™ mission, which aims to run the company's business in a way that creates a climate fit for life. Interface's ReEntry® program is a significant part of that effort, as the company has reclaimed and recycled its vinyl backed carpet tiles for more than 20 years. Interface uses the post-consumer recycled content from carpet tiles, along with bio-based materials, to make carpet tile backings that are net carbon negative – continuing the manufacturer's efforts to reduce the carbon footprint of its products as it endeavors to become a carbon negative enterprise by 2040.
"I am proud of our partnership with Interface and the results we have accomplished together," said Irvin. "It's really hitting on all cylinders when the end result not only looks good but feels good too."