At the International WELL Building Institute (IWBI), our mission is to lead the movement to promote health and wellness in buildings and communities everywhere. We are very pleased to see the growing investment and interest across the globe, including initiatives such as the WELL Building design guide published by Interface.
By placing people at the heart of design, construction, operations and development decisions, we have the ability to add value to real estate assets, generate savings in personnel costs, and enhance the human experience, health and well-being. That's what we're aiming to do through the WELL Building Standard™ (WELL™).
How many projects have been WELL Certified to date?
Since the launch of WELL in 2014, we've experienced rapid global adoption and more than 760 projects engaged with WELL encompassing nearly 145 million square feet of real estate. WELL is now being adopted in 32 countries worldwide, including 13 countries across Europe.
Which countries are leading the way with WELL?
The Early Adopters
WELL has seen strong growth in our early adopter markets – France, UK, Spain and the Netherlands – as well as rapid new expansion in Poland, Sweden and Ireland. There are now over 170 projects engaged with WELL in Europe. Of these, there are 10 Certified and 10 Precertified projects.
Finland, Germany, Hungary and Italy are following with their first registered projects since 2017, and the Czech Republic and Slovakia markets are being driven by strong local industry leaders.
A Positive International Movement
This is a powerful success story of positive international engagement, and progress that can be attributed to the expertise and passion of the WELL community. Twenty-five percent of global WELL project square metres can be found across these European countries, a testament to the universal need to better support health through the built environment.
Globally, over 2,700 industry professionals have successfully passed the WELL AP exam, highlighting the growing pool of practitioners and industry players keen to develop and demonstrate their understanding of healthy building strategies.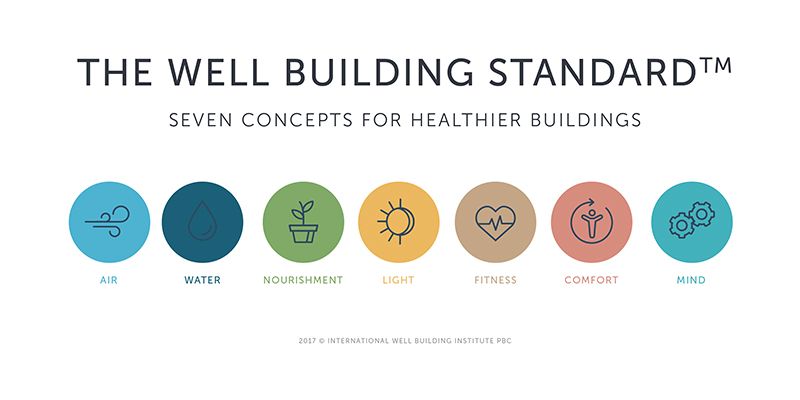 What kind of organisations are pursuing WELL and why?
We are seeing building owners, developers and operators, architects and designers, as well as corporations of all sizes, taking notice of the impact healthier indoor environments can have on people. At the same time, public awareness of the ways that buildings can affect our health motivates people to call for healthier features in their homes and offices.
We believe that as this groundswell of knowledge about the health impacts of our indoor spaces continues to grow, and as the industry becomes better equipped with healthy design and building techniques, we will continue to see comprehensive, evidence-based programmes like WELL take hold across the globe.
Bettering the Real Estate Base
Two-thirds of European projects are pursuing WELL for Core and Shell. These developers and landlords are fine tuning their real estate offerings to the needs and priorities of occupiers and tenants.
Commercial Interiors
Commercial office interior fitouts are the second largest project types, as employers recognise the need to expand their corporate wellness programmes to include workplace environments and culture.
Industrial, Leisure and Senior Living
Finally, we are seeing new sectors interested in applying health and well-being best practices, including industrial and warehouse facilities, leisure complexes and senior living facilities.
From a green conversation to a universal one
Early on, as the health and well-being conversation evolved from green building, the sustainability leads were the ones propelling WELL forward within their organisations. More recently, this has become a much more universal conversation with the potential to bring together diverse teams who didn't previously have the chance to collaborate.
Today we're seeing WELL resonate with a multitude of stakeholders: business leaders, investors, facility managers and human resources professionals, who are seeking innovative ways to recruit and retain the best talent and improve employee productivity, satisfaction and engagement. We're thrilled they're coming together with a united purpose – to advance better buildings that help both individuals and communities to thrive.
Victoria Lockhart brings expertise in sustainable green building practices alongside a passion for leveraging medical insights and new technologies to enhance human experience and well-being. Based in London, she joined the International WELL Building Institute™ (IWBI™) in 2017 to support the development of the healthy buildings agenda across Europe.