Liquid is an integrated communications agency which recognises its people are its greatest asset. This meant that its recent office refresh needed to provide a space for the team which fuels their creativity. To help bring its brand and values to life, the company turned to Interface, and design led interior fit out and refurbishment company,  DP Designs, to help redesign its 400m2 space in Birmingham. 
The office is one of four that Liquid has across the UK and acts as an important hub for the business. When replacing the flooring, the agency had a clear brief in mind: to create the very best working environment for its team. The company is made up of PR professionals, designers and marketers, all with differing requirements from their workspace. This meant that Liquid wanted to create a variety of spaces to suit all styles of working, from dedicated quiet areas for concentration to open plan areas for collaboration. The whole workspace needed to be an inspiring hub of creativity and productivity.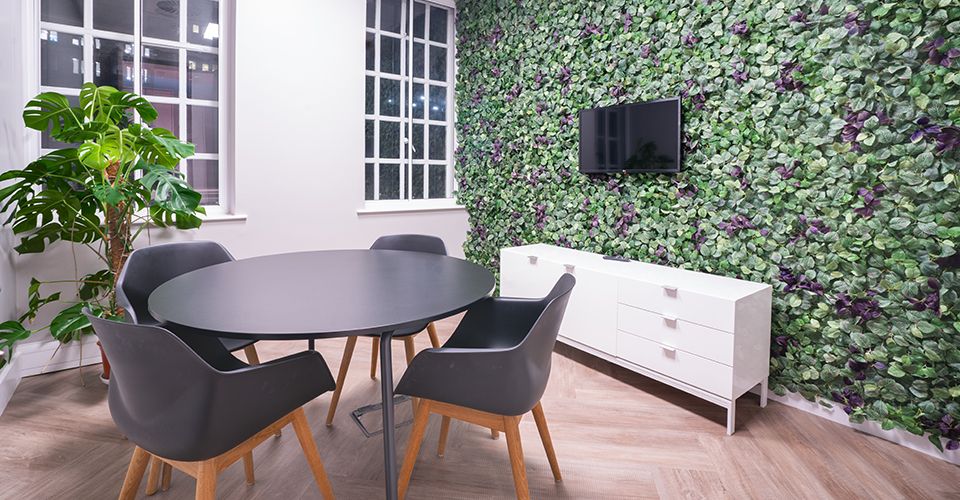 The DP Designs team leading the office transformation knew that meeting the brief would require flooring rooted in human-centred design, so specified a range of products from Interface, the market leader in this field.  
Elly-May Horton, designer at DP Designs, said: "Before we met with the team at Liquid, they had already been to visit the showrooms of other flooring companies. I instantly knew I had to take them to Interface's fantastic showroom in Birmingham, The Greenhouse. Liquid were blown away with the space and completely sold on Interface products. 
"When designing the layout for this office, we created names for the various zones. One is called 'The Allotment' – the aim of this space is to bring elements we see outdoors inside the workplace. To support this biophilic approach, we used the mossy textures from Interface's Human Connections® collection which invokes the natural cues we seek in our busy lives. Liquid are also one of the first PR companies in the UK to have a demonstration kitchen in their offices and this was a very important part of the design, we used the flooring to mark out this space to make sure it flowed through to 'The Allotment'."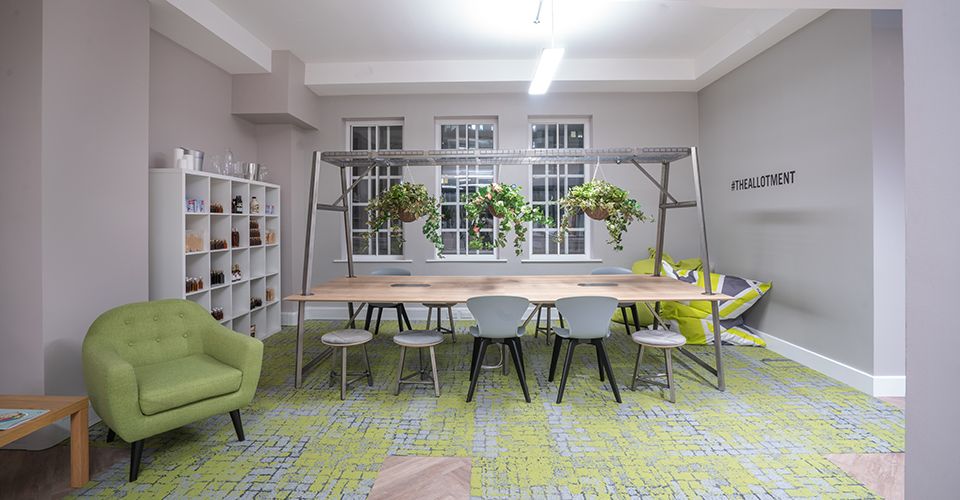 To complement the natural patterns of Human Connections, Interface's Works Fluid was introduced into the design. This product reflects the natural ripples of water to create distinctive visual effects through undulating lines that flow horizontally. To contrast the natural aesthetics, the flooring was seamlessly integrated with Works Balance, taking inspiration from the architectural perspectives of tall city skyscrapers – a nod to Birmingham's buildings and industrial heritage.  
To further promote diversity and movement, the design incorporated the World Woven® Collection. It is inspired by some of the world's most interesting textiles, from Scottish tweed to natural wool, meaning that the range brings a distinctive, handcrafted feel to the space.  
For high traffic areas, nature inspired Textured Woodgrains LVT range was used to provide some contrasting, but durable, aesthetics. Interface's LVT products are made with 39% recycled content, elevating sustainability credentials without having an impact on performance standards or price. The resilient flooring pairs seamlessly with Interface carpet tile without the need for bridges or connectors, creating a smooth and level finish. In addition, Interface's LVT comes with Sound Choice™ backing as standard, which reduces unwanted noise. This was an important quality factor for Liquid, and helped to create an open, collaborative space, whilst maintaining employee concentration.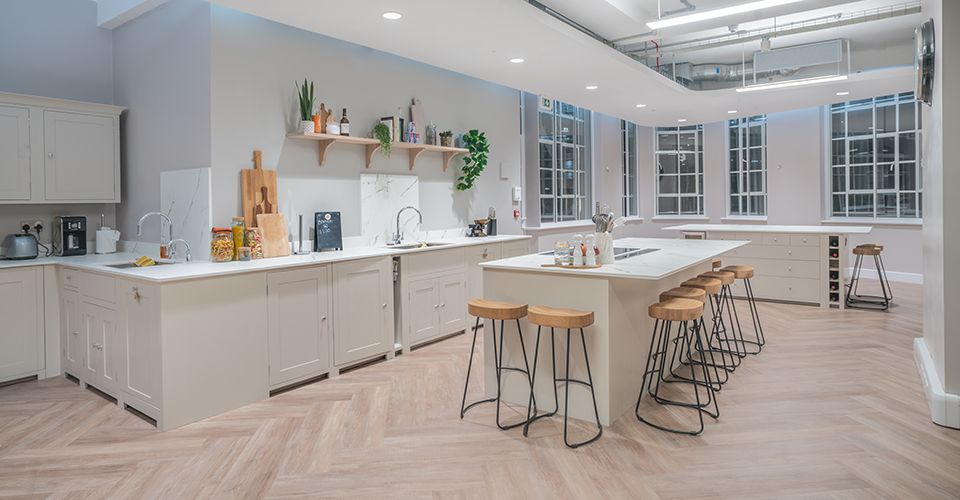 Jack Maclennan, Account Manager at Interface, commented: "Liquid PR was fully invested in the design journey from the initial concept to the build. The agency took a great interest in every detail which was such a joy. Together, with DP Designs, we've managed to meet the ambitious brief to create an exciting and inspiring place for their team to work."    
Elisabeth Lewis-Jones, CEO, Liquid said: "Our people and their creativity are the most important part of our business, so it's integral that our offices provide the perfect base which meets all of their needs, stimulating their minds and supporting wellbeing. DP Designs and Interface got the design of our Birmingham office spot on, creating an interactive and welcoming hub which connects all of our staff. 
"Our new demonstration kitchen is a space we're particularly proud of. We have a dedicated food team who work with global food trade bodies producing recipes, photography and videos for the media, for social media and for influencers. It was very important that this kitchen was highlighted within the office but at the same time still seamlessly connected to the rest of the space. We're particularly impressed with the 'The Allotment' area the team have created which joins directly to the demonstration kitchen – we couldn't be happier with the overall design."