Open offices are here to stay, and so is the open office noise problem. For the modern workplace, corporate designers and specifiers should consider noise levels and employee needs for individual space.
For example, noisy offices cause increased levels of stress and anxiety, according to the 2019 "What's That Sound?" Workplace Acoustics Study from Interface. And, 50% of respondents reported that noise levels would impact their decision to accept a job.
So what's causing the noise problem? A lot of it can be attributed to poor office design.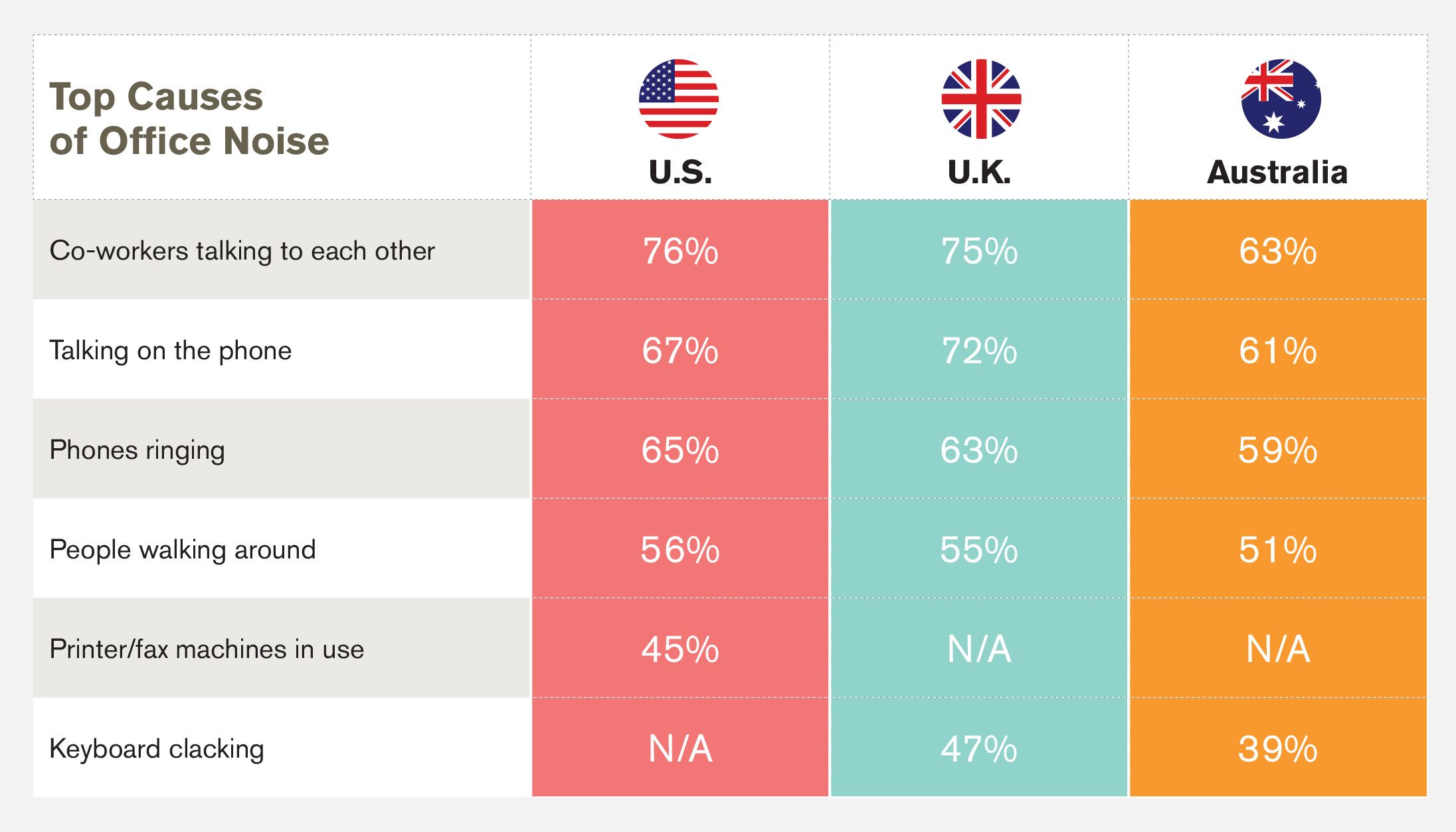 While the intent of the open office floor plan is to encourage collaboration, a study by Harvard Business School illustrates that these layouts can negatively affect employee productivity and collaboration when they are poorly designed. The Interface acoustics study found that nearly one-third (32%) of employees surveyed around the world report working at an assigned desk or work station in an open environment. But, only 31% of all respondents indicate that their employers provide private spaces for phone calls or conversations.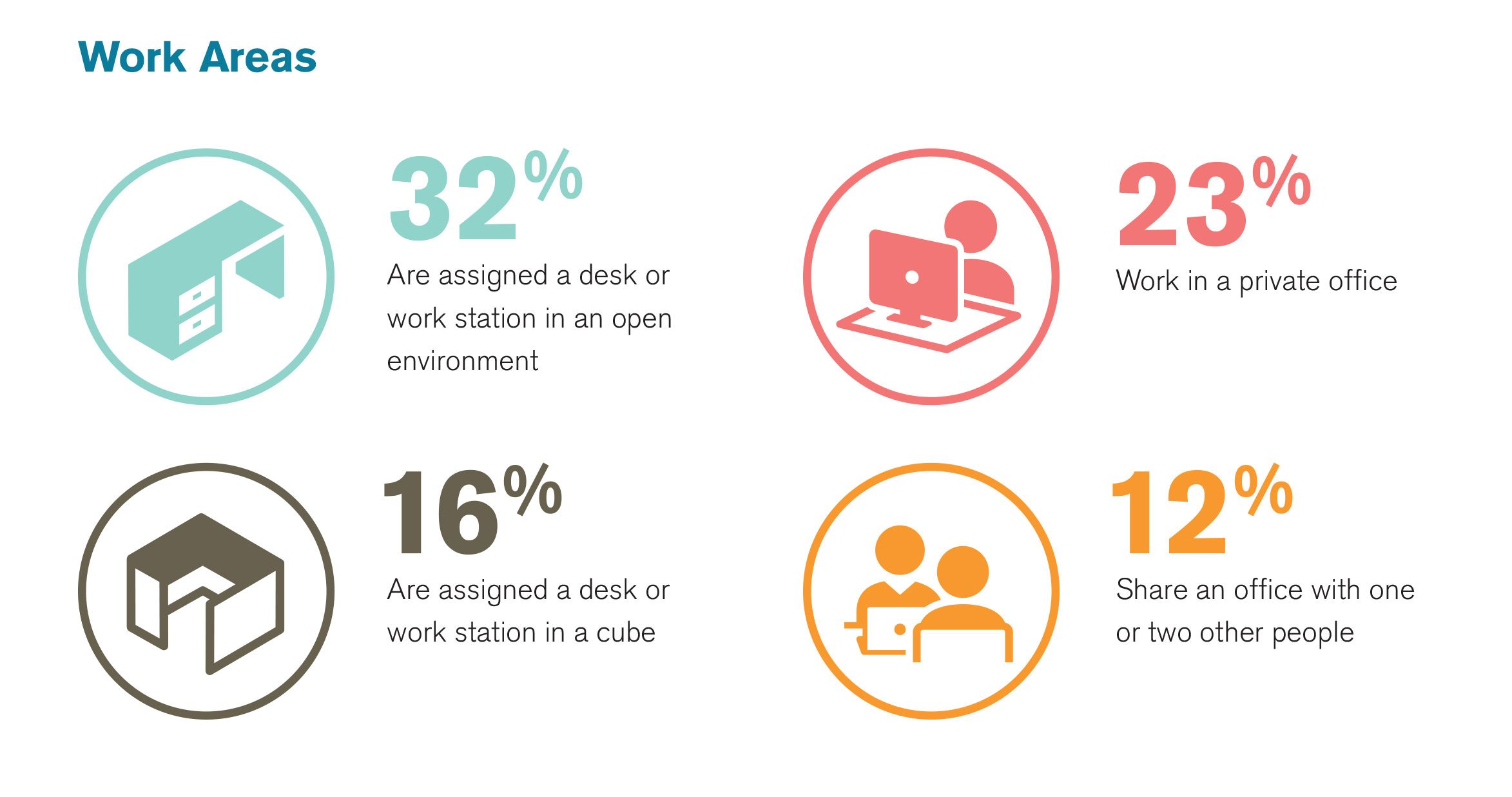 Doing away with collaboration is not the remedy to such noise concerns. Instead, designers should create office spaces that accommodate a variety of employee needs and work styles – and account for noise with the materials they choose.
Designing the open office for employee well-being
With about one-third of our lives spent at work, office spaces can have a major impact on our health, happiness and productivity. Fortunately, employee health and well-being is moving to the forefront of workplace design trends. For employers, this can translate to higher productivity. It's a win-win for everyone.
Work choice
Design should allow for quiet spaces, including individual work zones and group areas for meetings and collaboration. Incorporating work choice and flexibility in your design offers opportunities for both social connections and solitude. Employees can "flex" between individual desks, shared work stations, breakout spaces, private meeting rooms, outdoor areas, full-sun, dimmer light, etc.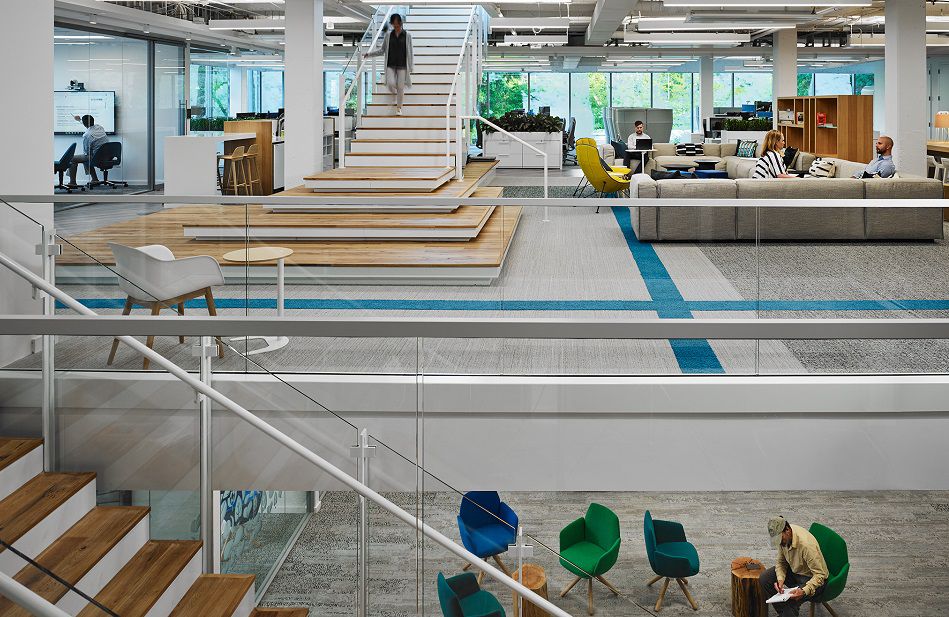 According to Bruce McEvoy of architecture and design firm Perkins+Will, current workplace design trends such as quiet rooms and small collaboration spaces contribute to overall noise reduction across office spaces.
The WELL standard
The WELL Building Standard™ is also a great resource for creating spaces that meet occupants' needs for well-being.
WELL dictates standards around noise – not only protecting occupants from street noise, but also providing spaces for focus and refuge within a building, such as a restorative or wellness room that can be used for mediation.
Material choice
Space allocation plays a huge role in mitigating noise in the open office, but designers should also consider the materials they use to outfit a space. Popular finishes and design trends may look good, but aren't exactly acoustically friendly.
Recently, hip urban elements like concrete, terrazzo, brick and wood are not helping office acoustics. The majority of employees (54 percent) who work in offices with wood, ceramic tile and concrete flooring say it is noisy at their offices, compared to those who work in offices with carpeting (45 percent). Even with the promise of greater efficiency that a quiet workplace affords, employees report that a large number of businesses do not take steps to address the noise.
"When creating workspaces, designers are often asked to apply planning methodologies or specify products based on design trends, rather than the specific operating needs of a business. But the best designs are those rooted in solutions specific to company culture, environmental aspirations and respect for individual user choice," explains Chip DeGrace, VP of Workplace Applications, Interface.
Open office spaces require special consideration for materials in order to mitigate disruptive noise. Hard surface materials may be sleek and stylish, but softer flooring can provide major acoustic benefits. Sound expert Julian Treasure of the Sound Agency notes that employers can implement very simple acoustic treatments to reduce noise levels. "The wrong flooring can be catastrophic for working spaces," explains Treasure.
Specifically, he identifies concrete, hardwood, and tile as flooring materials that are terrible for acoustics. "By contrast, a well-designed, soft floor covering can reduce noise dramatically, creating a more peaceful working environment and reducing stress levels."
According to the Carpet & Rug Institute, "Carpet controls noise by reducing ambient sound and surface noise up to 70 percent, and by reducing impact sound transmission from floor to floor. Carpet absorbs 10 times more airborne noise than any other floor covering and as much as most other types of standard acoustical materials. It virtually eliminates floor impact noises at the source."
Sound-reducing flooring options
Thankfully, designers can reap the acoustic benefits of carpet without forgoing sleek, urban design trends. Carpet's sound-absorbing properties make it ideal for open workspaces and conference/collaborative areas.
And for a harder surface option? Luxury vinyl tile with Sound Choice backing offers sound-reduction capabilities, along with the durability and slip-resistance needed for high-traffic areas. For the best of both worlds, combinations of carpet and LVT play well in open office plans.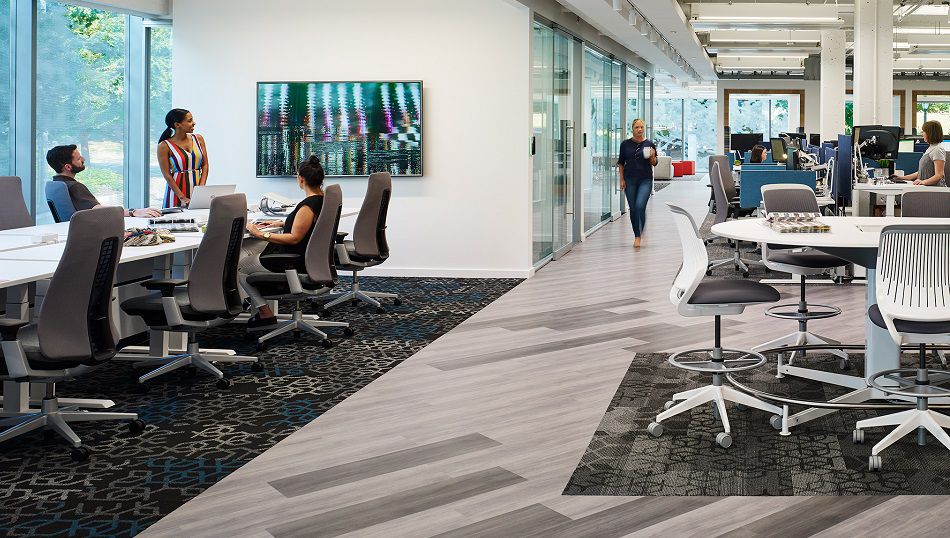 While each office environment comes with its own set of challenges, poor acoustics don't have to be part of the plan. By considering WELL Building Standards and specifying sound-reducing materials, the open offices of today (and the future) can be productive, healthy, happy places for employees.