Kingsley Napley is a law firm committed to challenging legal workplace traditions. Moving to a new office space towards the end of 2021 was an opportunity for the company to have a headquarters that reflects its mission. It opted for an unconventional new home for a legal practice, relocating to a 58,000 sq ft space in a warehouse-style building in Shoreditch, east London. The innovative law firm, named the best to work for in the capital for the past five years, wanted to create a modern workspace, offering more flexible working environments for its employees and future talent.
The brand-new space on Bonhill Street afforded endless design possibilities. The industrial warehouse-style exterior provided timeless and stylish setting to create an environment that would inspire the firm's ever-growing workforce. Independent design studio KKS Savills led the transformation and its designers turned to us to provide calm, soft, textured flooring solutions that would complement the building's aesthetics.
A home for everyone
The open plan, fully flexible environment is spread over six floors and incorporates more than 20 different workplace settings to enable staff to choose where and how to work. These include traditional desks, various sized pods, team collaboration areas, video conference enabled quiet rooms and a fully equipped staff dining and coffee bar.
Paul Butterworth, associate director and senior designer at KKS Savills, said: "When designing such a diverse environment, we needed a flooring supplier that could offer something to suit every corner of the vast space. Anything is possible, from texture and colour to practicality and sustainability. The flooring, along with the other natural materials and soft colour palette, has created an understated and calm interior that is welcoming to both staff and visitors, and perfectly suited to the firm's modern way of working."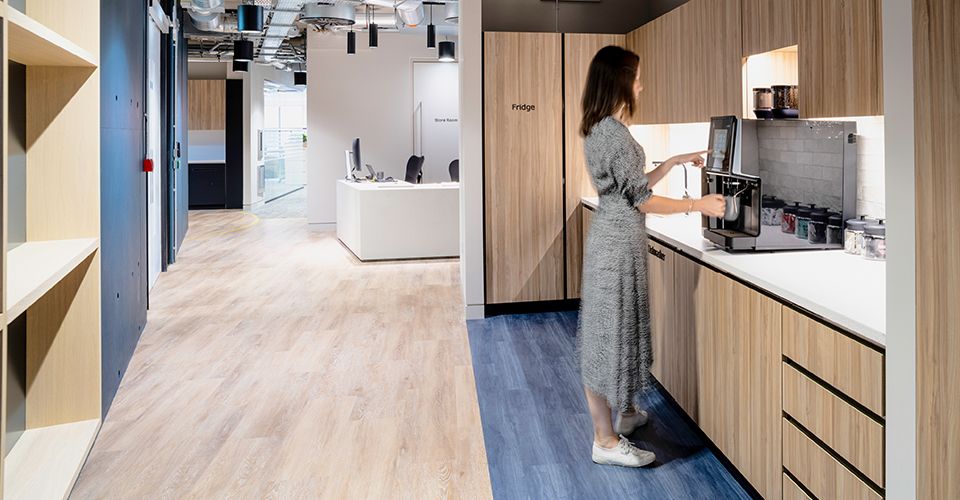 Design to inspire
It was important that the design distinguished one area from another, but movement was key to ensure a smooth flow between zones. Neutral tones of our Human Nature range were chosen to add texture and create a calming and homely feel adding warmth to the space. Inspired by biophilic design, the collection brings in visual and tactile elements.
Meanwhile, Level Set and Studio Set LVT flooring were used in all of the collaboration areas to provide a practical yet stylish solution for heavy footfall. The textured woodgrains complemented the rugged and urban aesthetic of the space, including architectural features such as exposed concrete ceilings and columns.
In open plan, high-traffic environments, the acoustics are key – and Kingsley Napley's office was no exception. Our LVT used in the space comes with Sound Choice™ backing to ensure that users can communicate clearly and focus when needed.

A splash of colour
In contrast to the neutral palette of the rest of the office, the restaurant is a bright, vibrant space where employees can socialise and have fun. It has been designed to offer an escape from work and create a sense of togetherness.
Inspired by Kingsley Napley's brand guidelines, we created a bespoke nora® rubber inlay that was cut to precision in our factory before being slotted together like a jigsaw.
Grounded in sustainability
Kingsley Napley is committed to being a responsible business by reducing its environmental impact and continually improving environmental performance.
Darren Jesse, chief finance and operations officer at Kingsley Napley LLP, said: "The green credentials of the products were a key consideration for the design of our new office and when we heard that all of Interface's flooring is carbon neutral throughout its full product life cycle, we knew they would fit the bill. The products selected by our designers all contribute towards the building's sustainability credentials and it meets BREEAM Excellent standards, which is a fantastic achievement for us. We're thrilled with the new office that Interface and KKS Savills have helped us to create – and the fact that it has a positive impact on the planet is a very welcome bonus."