University Of Huddersfield
Although they're supposed to be calming, stress-free learning environments, university libraries will often be full of nervous, panicky students, busily revising for important exams or cramming in last-minute amends to coursework and dissertations. Young people have so much to gain from spending quality time in these spaces, which is why it's so important that they foster both a creative and positive state of mind. This was our thinking behind the recent refurbishment of the University of Huddersfield's main library. As a former student there, I was passionate about this project from the outset and wanted to transform the library into beautiful and visually stimulating space.
At Interface, we firmly believe that positively designed learning environments will directly improve student productivity and overall well-being, and this belief is backed by a wealth of scientific research. This building needed to become a mentally supportive and multi-funcational space for students.
There's no question that practicality and functionality are key considerations when it comes to enhancing high-traffic spaces such as libraries, but this doesn't mean that better aesthetics can't be achieved as well. When it came to the University of Huddersfield project, we wanted to provide subtle inspiration by adding colour to key areas in the library. This would work to enhance rather than detract from the naturally tranquil look and feel of the space.
We started by brainstorming our designs with the university's estates team and from those sessions our Concept Design team created aspirational mood boards, each showcasing inspirational colour schemes using a range of Interface products. In the end, the agreed approach made use of the inviting practicalities of our Radial and Composure collections, as well as the warming colours of our World Woven range.
Our Radial and Composure collections are made up of neutral, understated products which provided the perfect foundation for the library project. Both are designed with the flexibility to flow easily through large spaces, helping reduce distractions for students and bring a renewed a sense of calm to the library.
Nature-inspired Composure mimics natural rock formations and creates a tranquil, comfortable platform. To introduce more colour alongside this, and in turn stimulate greater levels of creativity and inspiration, we blended this seamlessly with Radial. This allowed for a progressive gradient of shades to create an ombre effect. We incorporated the Composure Edge collection to link the neutral spaces together through organic and effortless colour flow, again helping students maintain their concentration levels.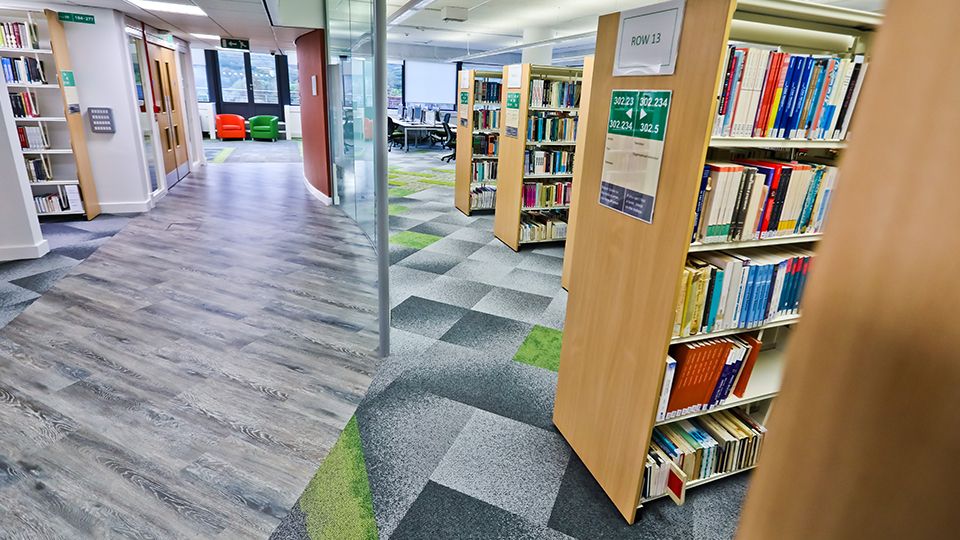 Our distinctive World Woven carpet tile was then used to bring a greater level of diversity to the project, as well as a sense of movement through the different spaces. We installed this product in the areas of the library we wanted to draw special attention to, such as collaborative working environments and feature spaces. World Woven is a flooring solution which pays homage to some of the world's most loved textiles, and creates a distinctive, handcrafted feel, contributing to the overall inviting atmosphere of the library. Given the sometimes hectic and stressful nature of libraries, it was important that the students were surrounded with simple, warm and uplifting patterns.
This project is a great example of making sure that when creating spaces for study, functionality should not affect the opportunity for inspiration, nor should design serve just one style of learning. Following close liaison throughout the project with the University of Huddersfield's Estates Team, we were able to help create a beautiful and inspirational learning hub for students.
Find out more about Interface's Concept Design service here.