As we're all learning to navigate a new normal, laying the grounds for an office where employees feel comfortable starts and ends with safety. It's about adapting the workplace to solve issues like distancing, wayfinding, acoustics, and sustainability – all while maintaining a sense of style. 
At Interface we recognise that flooring is an essential design element when creating the foundation for a safe space. 
Through our modular flooring system, flexibility not only comes second nature, but it's key to designing for a post-COVID world. "Modular flooring allows for updates to be easily made depending on design trends, space reconfigurations, or even drastic renovations; it can be easily changed, rearranged, and added to," says Mindy O'Gara, Interface Director of Product and Learning Experience. "For the built environment, designing for resiliency is critical; at its core, resiliency means having the ability to adjust quickly and successfully to change." 
Here are just some of the ways Interface is changing the face of flooring for every type of business culture. 
Finding the way Forward 
At its core, wayfinding is about helping people along their journey within a space. Interface is constantly reimagining innovative ways to get people where they need to go with safety and style in mind. By utilising design elements, including colour, texture, pattern, and format, they are creating subtle physical distancing reminders that feel intentional and appropriate – and that fit in with a company's aesthetics. "In a corridor, for example, this might mean using colour to naturally lead people in a specific direction. Patterns can be arranged to signify pathways, waiting spaces, and divisions," O'Gara says. And in​ open spaces, flooring can work with furniture to help frame zones through lines, banding, colour, and pattern. 
Focusing on Physical Distancing 
"Modular flooring provides a special benefit for spaces in need of physical distancing: built-in mathematics," O'Gara says. Measuring physical distance is easy with the modular format and design details of the Interface portfolio. The customisable nature of a modular system enables one to create distinction through detail, whether it be bold or subtle and sophisticated. Delineated spaces can be cued by using different colours, patterns, textures, and materials. Thanks to its flexibility, modular flooring is especially beneficial ​for crafting this kind of creative canvas. For example, if a workplace opts to integrate spacing into the flooring, simply removing a single row of tiles and adding a change of colour or pattern is all that is required. Likewise, the floor can flex back to its original layout if needed.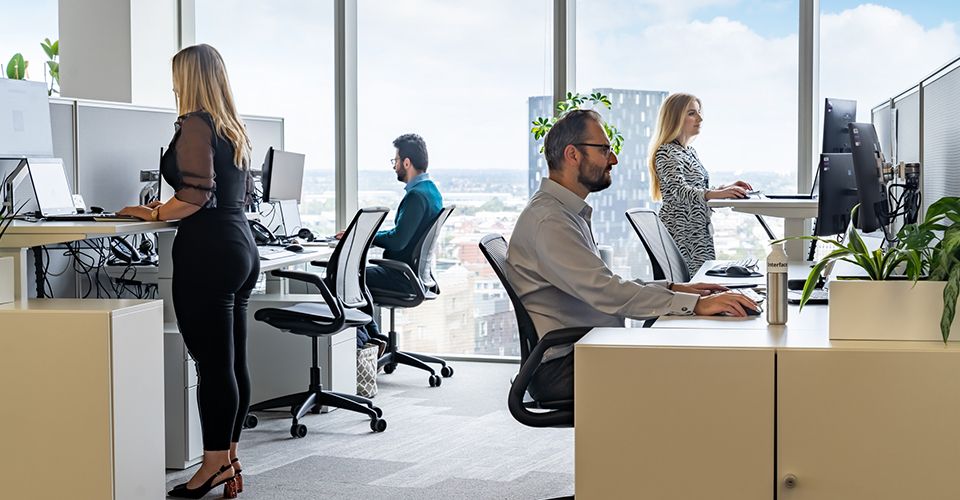 Accommodating Different Areas 
In many workspaces, there are different zones dedicated to various functions – collaboration, focused work, socialising, learning, etc. "For a focus area, key considerations might be acoustics and comfort, both physically and psychologically," O'Gara says. "Carpet tile would be the appropriate fit here, as it provides comfort and warmth due to its textile nature and minimises the impact of noise," she says. Carpet tile and luxury vinyl tile (LVT) also work well for collaboration spaces. "Both of these materials provide definition and a sense of energy through pattern, colour, and acoustics." LVT is also a good option for gathering spaces. "​Our vinyl floor tiles have a high-slip resistance and a matt finish, making them ideal for commercial and corporate environments," says Kari Pei, Interface ​VP of Global Design. Like carpet tiles, they can be easily replaced one by one. And the look is anything but utilitarian: think faux wood grain, stone and concrete. 
Bringing the Outside In 
As we've been spending most of our time indoors, bringing the outside into the office has become even more important. "By consciously including nature, we are reconnecting to the environment, providing occupants with the health benefits associated with nature," O'Gara says. For example, letting light in means it can interact with flooring products to highlight texture and nuances, so they feel like organic materials. Including elements inspired by nature can help foster a healthier office culture where employees feel safer, more productive, and inspired.
How can we help you? 
At Interface, we understand that no two projects are alike. The role of our Concept Design team is to support you in finding beautiful flooring solutions within budget. Everything we offer is bespoke to the project, which can include creating custom colours, products, mood boards or floorplans. We can get involved in just a single phase of the process or offer design support from start to finish. Contact your local Account Manager or get in touch with the team direct.