Choosing the location of the new UK Interface headquarters was no simple task. It was important to not only find a nurturing home for our talented team to flourish, but also a base to help us achieve our business goals. The office had to bring to life our ethos of creating workspaces which are both beautifully designed and positively impact the well-being of the people who use them.
With the second largest economy in England and its status as the UK's first biophilic city, Birmingham provided the perfect backdrop.
Making history
Known as the 'city of a thousand trades', Birmingham's rich history of production made it the ideal setting for us to continue our business journey. Playing an integral part throughout the industrial revolution, Birmingham grew, adapting with technological changes and market trends, to become one of Britain's manufacturing hubs and the country's 'second city'.
Birmingham's commitment to innovation is a philosophy we share. Since the founder of Interface, Ray Anderson, realised in 1994 that the business needed to move from a "take-make-waste" culture to a circular model, we've been innovating to reduce our impact on the environment.
This innovation is demonstrated not only through our ways of working and products, but through our design of workplaces which balance beautiful aesthetics with functionality, creativity and well-being, an ethos we have brought to life in The Greenhouse.
Beautiful, positive spaces
As the UK's first Biophilic City, Birmingham is part of a global network which builds an understanding of the value and contribution of nature in cities.
At Interface, we're champions of using biophilic design in buildings and understand the critical role it plays in promoting well-being and productivity, so it was important that our new headquarters embodied this philosophy. The design strikes the perfect balance between creating a beautiful, healthy working space, but one which is also functional, suiting all styles of working at the same time. On entering the office, the eye is immediately drawn to a beautiful wisteria tree which sits in the centre of the open plan kitchen area. Its form is also reflected in the flooring through a custom made 50m2 nora® rubber inlay, which clearly demonstrates the versatility of the range.
We've combined a number of innovative, nature-inspired products throughout the office to help recreate the diversity found in natural world. Taking inspiration from forest floors, grassy fields and pebbled garden paths, our Human Nature range works to create a flexible and open environment for occupants. Meanwhile, our Ice Breaker collection mimics the effect of scratched ice to create organic geometry that moves fluidly across the floor.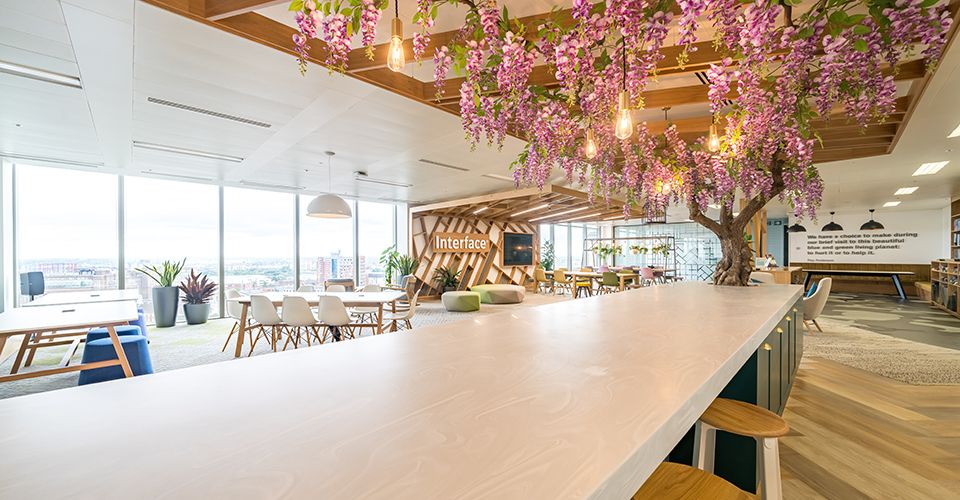 Human Connections®, a range which invokes the natural cues we seek in our busy lives, has been incorporated to encourage colleagues and customers to come together and reconnect. Reflecting the squares and piazzas found in European cities, the design emulates spaces in which communities congregate and spend time with each other.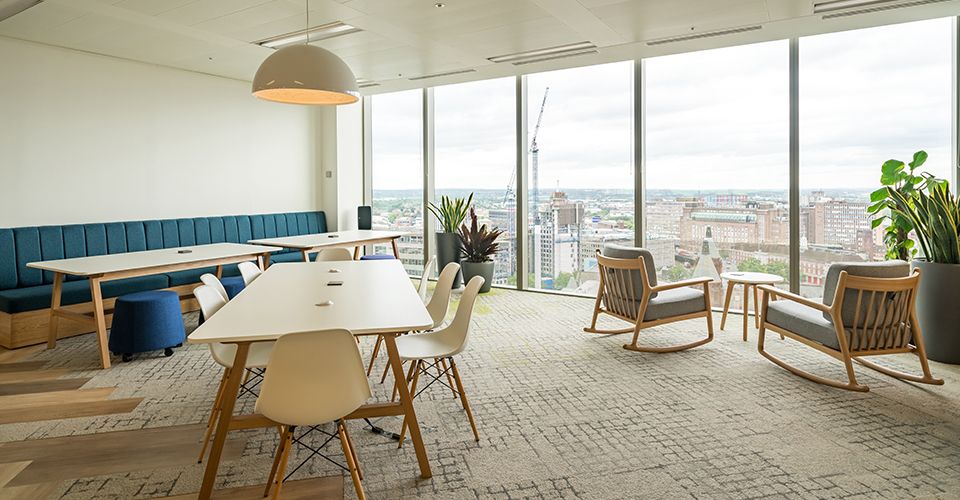 In high traffic areas, our Luxury Vinyl Tile ranges are seamlessly integrated with the carpet tile to create a space which is not only versatile and durable, but also reconnects people with the natural world around them.
People first
People are hugely important to our business, from our immensely talented colleagues to our valued customers. This is why The Greenhouse is a collaborative hub for our team, customers and stakeholders from across the country to come together in an incredible co-working environment.
The office encourages colleagues and customers to move fluidly across the space to create an explorative and immersive experience. We've drawn on our family of products to create alternating textures and patterns to take people on a journey through shared working areas, breakout zones, more traditional workspaces and meeting rooms.
In order for this collaboration to be successful, the location of the office had to be easily accessible for our team, as well as customers across the country. Birmingham's central location and efficient transport network means that destinations across the UK can be reached with ease.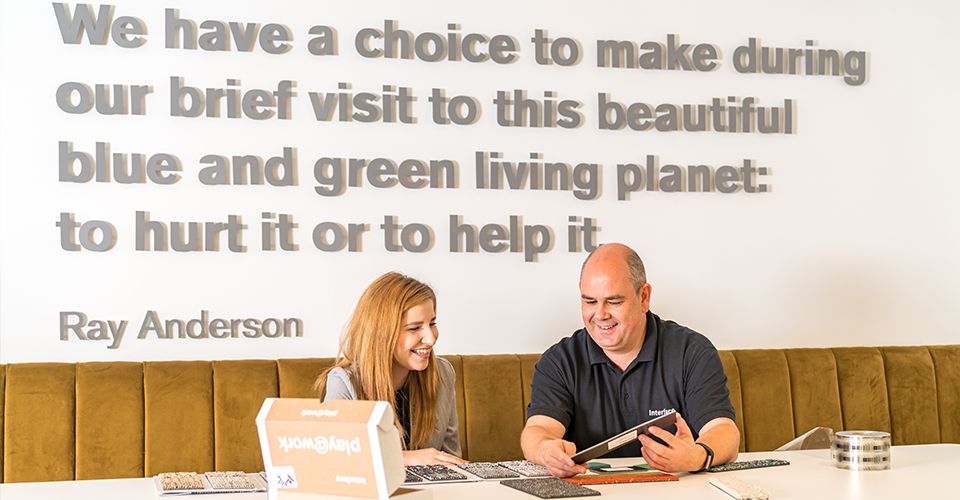 Designing with climate in mind
The space isn't just beautifully designed, it is the embodiment of our commitment to our mission Climate Take Back™, a pledge to run our business in a way that reverses the impact of global warming.
All the products in The Greenhouse are carbon neutral throughout their whole lifecycle. We also worked together with British manufacturers and furniture suppliers with similar sustainability credentials to help complete the workplace.
Of course, creating a space with sustainable products is all well and good, but it was equally important that the building housing The Greenhouse supported our sustainability story. The office is situated on the 10th floor of The Colmore Building in the centre of the city's main business district. The building was the perfect choice as it has achieved BREEAM environmental and sustainability status of 'Excellent'. BREEAM rated developments are independently certified to be more sustainable environments that enhance the well-being of the people who live and work in them.
Alongside the new UK headquarters in Birmingham, we've also opened up our new EMEA Design Centre, 'The Mill', in Halifax's Dean Clough development, and invested in 'The Collaboration Centre', Interface's new Clerkenwell showroom which creates a more open space for customers to experience our range of products.
Find out more on The Greenhouse and products used in the case study here.