Today's spaces are all about variations in texture, from sleek metallics and bright acrylics to warm woods and woven textiles. This unusual juxtaposition is exactly what happens when carpet meets LVT.
When it comes to textures, as Interface Concept Designers, we have the luxury of designing with the market's most versatile choice of carpet tiles, to meet client briefs. And when LVT was introduced to our modular system – our set of creative building blocks – it opened up a new world of opportunities.
The use of both carpet and hard surface flooring allows for unique textural combinations, as well as delineation of spaces and their uses. A mixture of varied flooring designs responds to demands for open and collaborative environments and reflects our complex (working) lives.
Designed for work, learning and hospitality
Over the past few years, design for office spaces has focused on making the work environment a more beautiful place to be, and we see more 'homely' interiors. Places that create a sense of community, where people can feel relaxed and ready to work. That means using colours and materials thoughtfully to enhance mental stimulation and encourage productivity, as well as introducing biophilic design and encouraging well building practices.
In education it's about enticing the student, who is now the customer. The design and environment where the student is going to spend the next three to four years is one of the most important decisions in life. This is the place they will meet their best friends, fall in love, live, eat, work, party and finally make a career choice! They want a university to be proud of and where conditions for learning are ideal, and that means the design needs to last the test of time in terms of style, comfort and aesthetics.
In hotels, it's all about creating a memorable experience, for guests to enjoy, recuperate, tell their friends about, and want to return to. All while ensuring smooth operational efficiency for the hotel owner.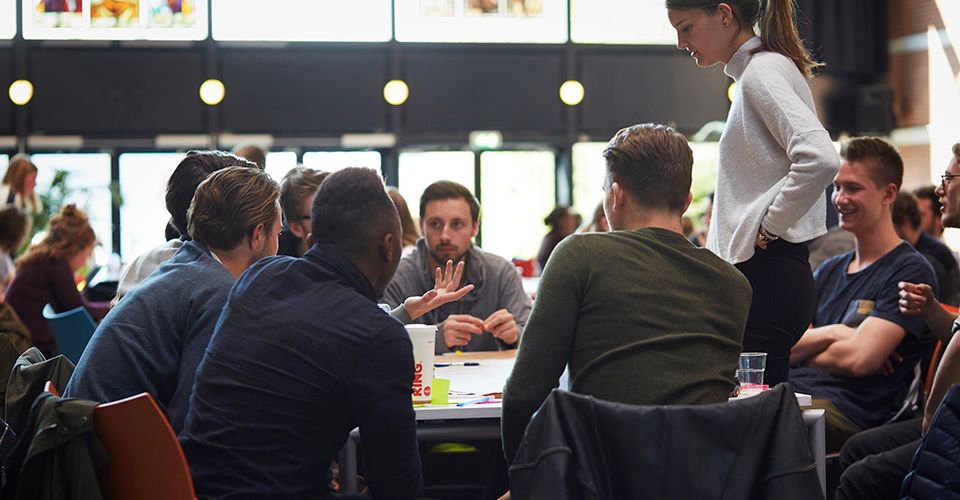 The perfect match
Because our LVT and carpet tile products are designed to work together –  fully compatible in format and height, with no need for transition strips – we can really use the components in our modular system to create spaces that support the users. The seamless blend of LVT and carpet tiles offers broad appeal and allows us to define areas and create more interest in the design in general. Introducing different textures to zone the area helps with wayfinding and to orientate people in a large space. And we're able to offer flooring options in more obvious areas like tea points and reception areas, where most people want easy maintenance, and supporting spontaneous interaction at the same time.
Developed to match our carpet portfolio, and inspired by some of our favourite elements, Interface LVT designs provide sleek, sophistication and can be easily installed alongside modular carpet tiles for harmonious beauty and style. Our collections now include: Level Set™ with its wood-like Skinny Planks and stone-like squares; Boundary Metallics with an industrial organic effect; and Studio Set™ with colours ranging from soft to vibrant tones.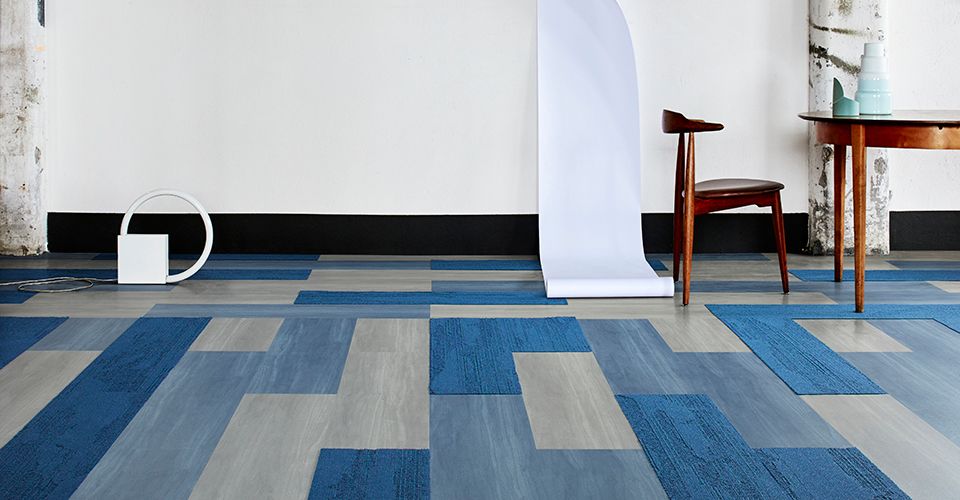 Here are some of the great projects we've seen:
Replicating timber and tile for Prezzo
Interface LVT products are designed to stand up to everyday use while making your space feel more welcoming and attractive. That's what drew restaurant chain Prezzo to the Level Set collection, as they focused on transforming two of their UK branches in Winchester and Bracknell. Prezzo originally wanted to use real timber and tiles in their design plans; however this approach presented a number of challenges in terms of budget, installation and handling bulky, heavy materials on site. Level Set's wood-inspired skinny planks and stone-like squares were not only an ideal alternative to real timber and stone, they also offered superior acoustics with the Sound Choice™ backing. And the lighter weight made it much easier to manage on site during installation.
"We wanted to create welcoming and stylish interiors for these branches so that customers look forward to spending time in our restaurants and feel relaxed during their visit. Having products which replicated real timber and tiles was key to achieving this look and the LVT flooring from Interface offered a great fit for the design scheme. The products were not only easier to install than real wood and stone, but also offer benefits when it comes to maintenance, even in high traffic areas." Prezzo Project Manager James Dawson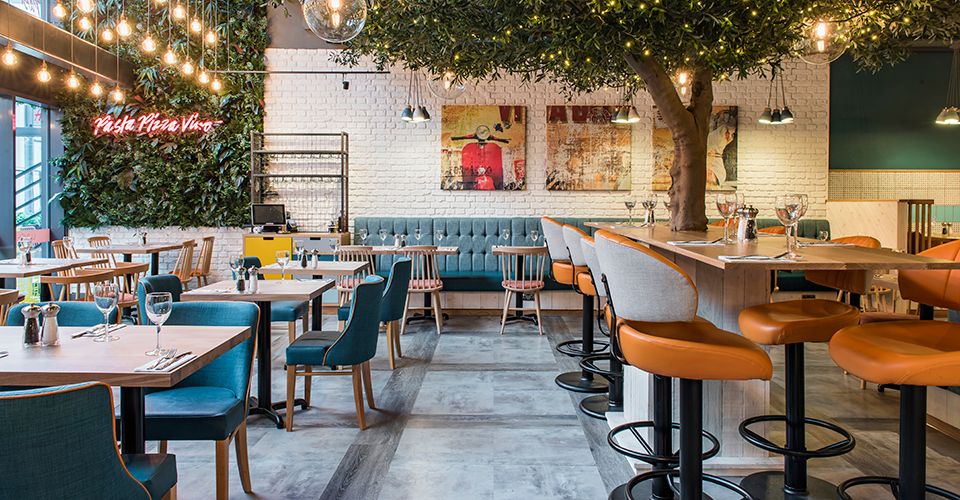 LVT works side-by-side with carpet at Department for Work and Pensions
We often see a diverse mixture of usage and needs. Collaborative spaces and lounge areas are positioned side-by-side with cubicles, kitchens and meeting rooms. The flooring in a space can serve as an indicator for usage and wayfinding.
For example, when a branch of the UK's Department for Work and Pensions (DWP) moved in to share the existing office of Ashfield District Council, the space needed a refurbishment to facilitate an efficient co-working space. The design was crucial to create zones for each organisation, while still maintaining an open plan layout.
A stylish yet budget friendly choice of carpet was made with the Employ Collection featured throughout the office. A mix of solid colour tiles and tiles with a transitional effect in Clementine and Sunset colours helped to establish a unified space. Another key consideration in this refurbishment was accessibility, as users of the space have varying needs. The combination of LVT and carpet tiles offered a solution that ensures soft landings between different textures and spaces. Likewise, the edge-to-edge layout helps one zone flow seamlessly into another and enhances the overall feel of the space.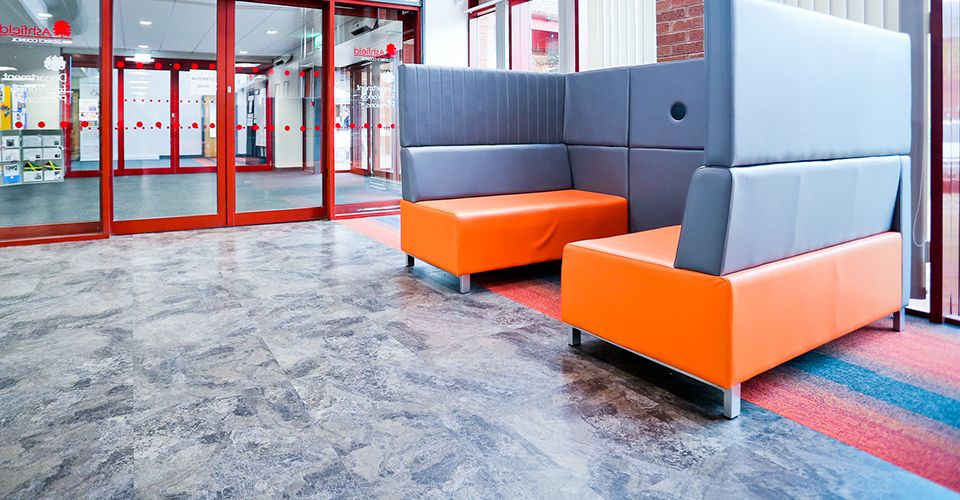 Supporting culture and collaboration at BASF
For the new Istanbul HQ of global chemical company BASF, the flooring also played a vital role in creating an open and collaborative workspace. The space is intentionally designed to promote interaction and socialising with zoned areas, supporting the work at hand and offering spaces for quiet and concentrated work. The creative mix of LVT and carpet tiles throughout really shows off the possibilities.
Inviting customers to play
At the recent Clerkenwell Design Week in London, the Concept Design team invited visitors to play with the possibilities, combining LVT and carpet tiles with other tactile, fun and beautiful materials. Our studio was packed with creativity, and we thoroughly enjoyed seeing how designers were attracted to trending colours and schemes to create their own moodboards.
Your flooring design can be as simple or as sophisticated as you need it to be. We are happy to be able to support you to create spaces people love.
See more case studies here.