We recently kicked off a series of articles on the construction of Interface's new global headquarters, focusing on the overall design and unique elements of the building. More than just a place to work, the new headquarters conveys where we've been, where we are today and where we want to go next as a company. Every element in the development of the space was carefully planned with specific users, function, design and sustainability initiatives in mind. In this post, we're focusing on a very important audience: our customers.
Customer-Centric Design
At Interface, we want our surroundings to reflect who we are as a company, with a healthy blend of our personalities, passions and products. In designing our global headquarters, we took this approach to new levels by considering our customers, a critical audience, in our decision making. Our goal: to create a space where customers from around the world felt welcomed and inspired.
"From the very beginning, we desired to create a space unlike any other. A place where our customers can see themselves in our process and see themselves at the center of how we view our place in the world," shared Chip DeGrace, Vice President of Customer Engagement at Interface. "We approached many aspects of the project from the viewpoint of our customers and how they would experience and interact with and within our new corporate home."
Location Grounded on Accessibility
The new building is in the heart of Atlanta's vibrant Midtown community, which features 120 blocks of office buildings, residences, public art, historic landmarks, entertainment venues and restaurants. A benefit to having Atlanta as the home of our global headquarters is the international airport, offering customers and employees alike ease getting to and from the city, often with nonstop flight options. With our customers just a plane ride away, access to public transportation was critical. We're a direct MARTA train ride from Atlanta's Hartsfield-Jackson International Airport and many other of the city's popular destinations.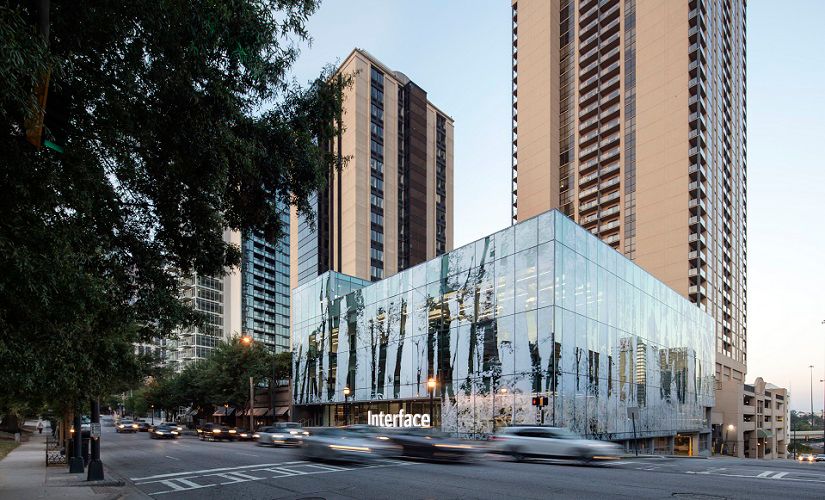 Innovative Products in Action
A growing trend in retail, experience-based shopping shows products in action. By mimicking living spaces, sometimes in an actual home, retail showrooms become functional, liveable spaces. Our new work home echoes this approach, also functioning as a living showroom designed to inspire customers worldwide.
In designing our new home, we wanted customers to be blown away by our design philosophy the moment they walk in the door. An abundance of natural light in the building's lobby provides the perfect setting to showcase Interface products, values and legacy, with the entire first floor designed to feature the latest and greatest of our products, including an area adjacent to the entrance supported by a large sample center.
As both customers and employees move through each floor, they are exposed to Interface products. We were intentional in our design approach, incorporating collision points for increased collaboration by adding wayfinding through flooring that leads to designated individual and collaborative work spaces. Throughout all four floors, visitors experience how Interface products can be used to:
Create distinct spaces without walls

Bring nature inside

Reduce distracting noise through strategic use of hard and soft surfaces, and

Promote creativity and collaboration, all in seamless transition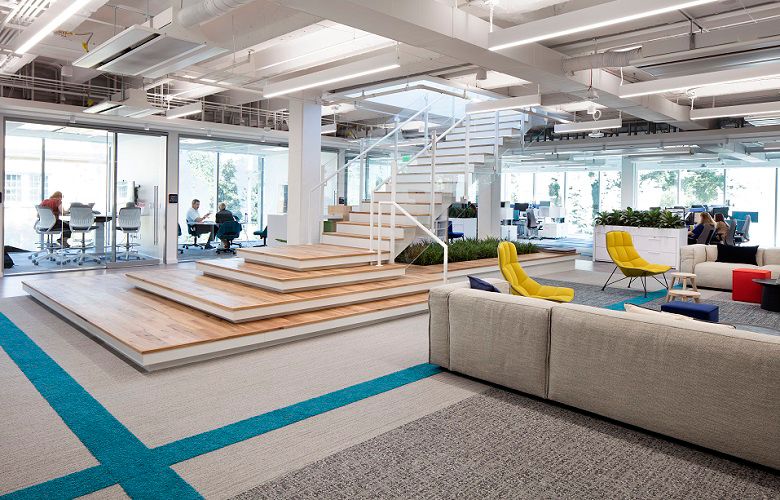 Functional Beauty
Striking beauty is a fundamental component of the overall design of the space. Among the most eye-catching and functional elements of the main floor is the stadium seating and staircase that, in addition to leading to the second floor, provides a space to gather for announcements, presentations and learning opportunities.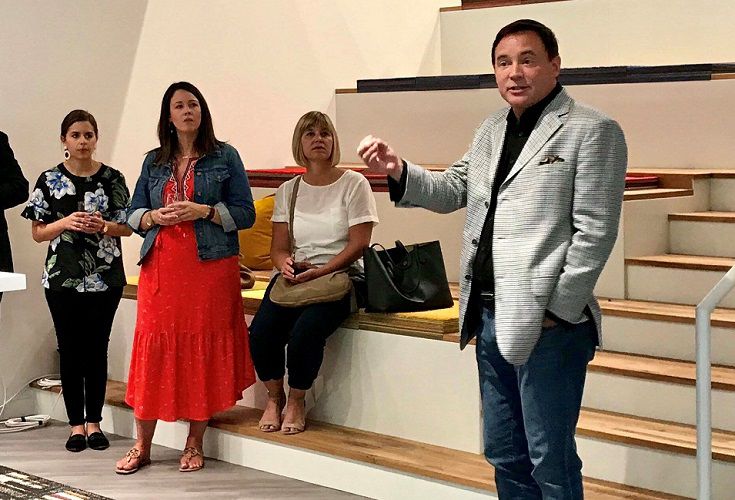 The second and third floors house dedicated spaces that cater to the health and well-being of guests and employees, with wellness rooms, mother's rooms, restoration rooms and, of course, more staircases to promote movement. The fourth floor offers a dual-level training and multi-purpose room that seats up to 150 people. Topping it off, quite literally, customers can enjoy our rooftop lounge and garden area that overlook the city.
We invite and welcome all our customers to visit and experience our new headquarters – an environment designed as much for them as for Interface.