An interview with Kari Pei
"Architecture is really about well-being. I think that people want to feel good in a space […] On the one hand it's about shelter, but it's also about pleasure." – Zaha Hadid
With her latest collection, Look Both Ways™, Interface VP of Product Design Kari Pei knew she wanted to contribute to spaces where people can function at their best. "Whether it's working alone, in collaboration, or ideation – the floor provides the backdrop to inform and elicit certain behavior," she explains. This is all about elevating mood, and, as Pei puts it, embracing different styles by "extending the vocabulary of a visual".
With the ambition of creating one collection of both hard and soft surfaces, LVT and carpet tile, Pei used the concept of contrast as a platform for creativity, taking things way beyond the first impression. In the design world, contrasts can be powerful. They can transform a space, adding striking visual interest, without trying too hard. When done right, a diversity of material, pattern, texture and colour yield surprise and intrigue, breathing life into a room, and bringing joy to all those who enter.
Carpet and LVT in one collection
Look Both Ways is a playful collection that brings LVT and carpet together. Starting with concrete, Pei and her team explored colour and texture to make floor designs with seemingly endless creative opportunity and flexibility. Dimensions and themes bounce off one another, working together, side-by-side, in unexpected ways. In some cases, the same idea may even be reflected in both materials. For instance, carpet adorned with a realistic chipped concrete pattern coordinates with confetti-flecked LVT – the latter being a unique nod to the terrazzo trend.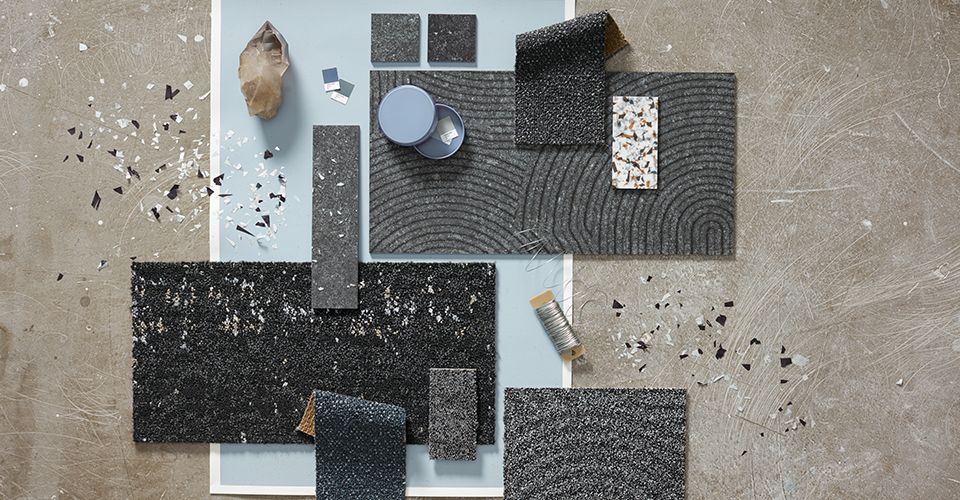 The collection gives a monolithic feel, but with Interface's systems approach to design. From tiny corners of one room to floors within large, multi-level spaces, the idea is to define a space by its aesthetic. Inspired by the 'concrete jungle', the patterns and textures used are perhaps subconsciously familiar to most. "We want to capture the beauty of [the urban landscape]," says Pei, "but the most important thing is that we create products that will capture the user's emotional connection to the space."
+Positive spaces to tune into
This is the very essence of +Positive spaces™. Look Both Ways deeply considers not only how these spaces will make people act, but how they will make them feel. As Pei explains, "When I think of all the Interface collections, there always seems to be some sort of theme that relates to capturing the emotions of people in a space – trying to conjure a certain feeling that will connect the person in a space to the materials in that space."
And this isn't just an emotive connection. With carbon neutral products made of recycled nylon – this collection helps designers play a part in reducing carbon emissions in their projects. Look Both Ways invites us to create, be inspired – and come excitingly alive with new ideas.
Discover the Look Both Ways Collection here.